DT Bait Coldwater Green Beast Hookbait Range
When you need to get the most out of your hookbait, DT have the answer...
There aren't many boilie mixes with winter pedigree like DT Bait Developments' Coldwater Green Beast. It's been responsible for the capture of thousands of coldwater carp over the years and, like the rest of the DT range, comes with a selection of accompanying hookbaits and glugs.
DT's standard wafters match the washed-out look of submerged bottom baits, or you can opt for a brighter version like pink or white. There are also matching pop-ups throughout the flavour range, again in a variety of colours and sizes. On the liquid side of things, the Essex-based company offer a number of options including the very clever DNA Liquid Food Stimulants. These active liquids, which complement the boilie flavours, have a floating and sinking component so flavour and attraction is pushed and pulled through the water column. If you're looking for something viscose but water-soluble then the boilie dips are also available across the range.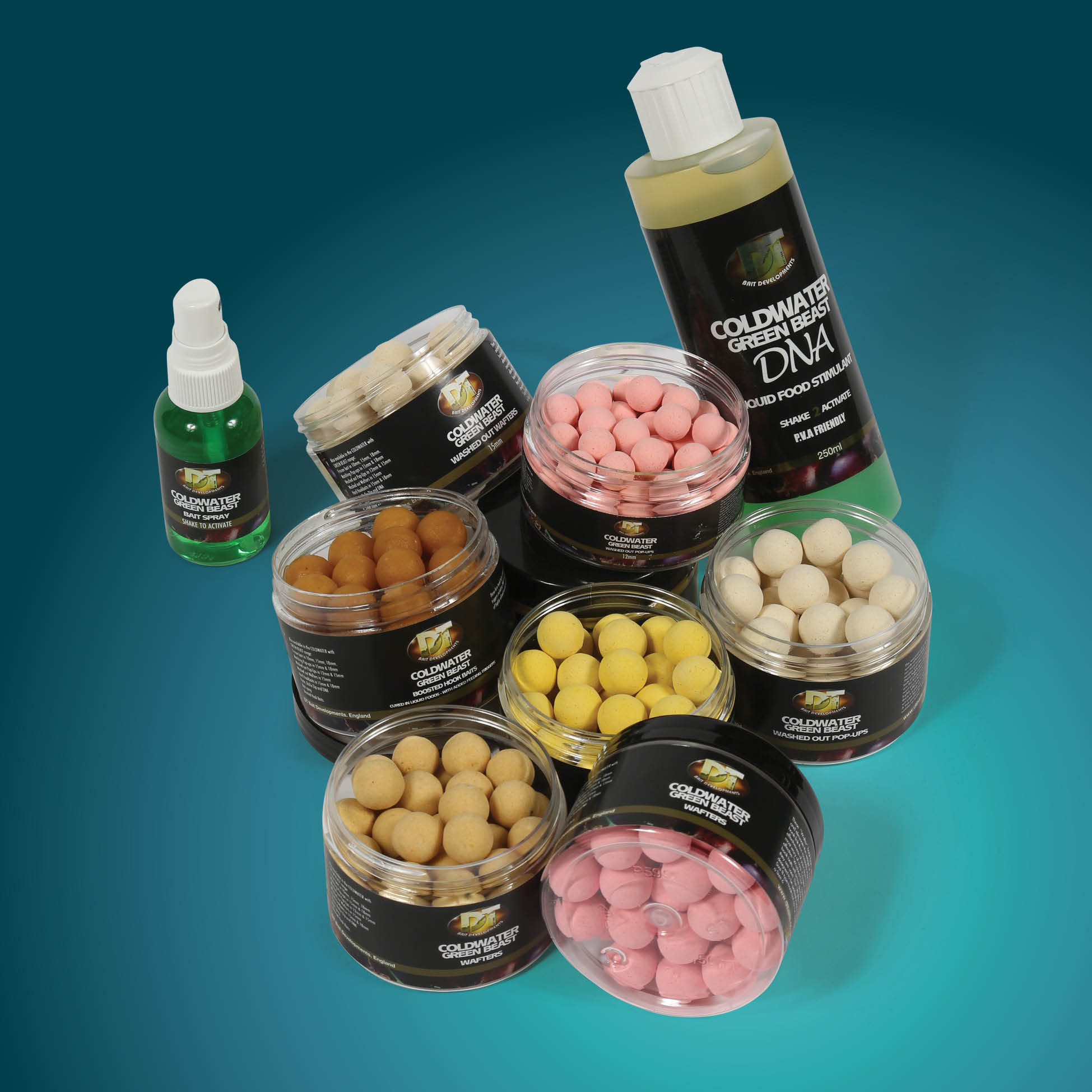 1 Bait Spray
DESIGNED FOR: Misting hookbaits and PVA bags.
OVERVIEW: These fine sprays can be quickly and easily applied to your hookbaits to give them extra pulling power, especially in winter. Containing a liquid feeding trigger and available in seven different flavours, these can be sprayed on in the swim or in advance of your session to absorb into your hookbaits.
PRICE: £5.99
2 Boosted Hookbaits
DESIGNED FOR: A sinking alternative to high-attract pop-ups.
OVERVIEW: With some fish wising up to high-attract pop-ups, these sinking hookbaits offer a great alternative. Pre-soaked in a matching liquid, these tubs burst with flavour and will make your bottom bait presentations stand out.
PRICE: £6.50
3 Washed Out Pop-Ups
DESIGNED FOR: Offering a subtle hookbait.
OVERVIEW: Washed-out coloured pop-ups are available across the DT range and offer a subtle hookbait for wary carp. They are made from a naturally buoyant mix and are tough enough to resist the attentions of nuisance fish and diving birds.
PRICE: £6.60