ESP Camo Luggage
ESP have unleashed their latest camo pattern on a new range of luggage...
ESP don't cut corners when it comes to product development, so it's no surprise to learn the camo pattern you see here took many attempts to perfect. Dave Ellyatt and his fastidious team in Oxford dismissed four lots of samples over a 12-month period before settling on the winning combination. It's all down to getting the lightest base colour just right before the other three colours (black, brown and green) are layered on top, according to Dave. And looking at these examples, we think they've nailed it.
1 ESP Camo Carryall 30 Litre
Perfect for short sessions or travelling light, this 30-litre carryall is made from PU-backed 600D polyester with heavy-duty zips and a reinforced based. There's also an adjustable padded shoulder strap and carry handles, plus a zipped and padded pocket for your buzzer bars in the lid. Four external pockets and three internal pockets complete the package.
£54.95
Shop now
2 ESP Camo Barra Bag 50 Litre
Designed for use on a barrow - hence the name - this larger bag has a 50-litre capacity but retains the tough 600D material, heavy-duty zips and reinforced base of the carryall. It's also got padded lifting handles and the same zipped and padded buzzer-bar pouch in the lid. There are four roomy external pockets, plus another four inside the bag for organising your gear.
£59.95
Shop now
3 ESP Camo Cool Bag XL 40 Litre
Excellently insulated thanks to a tough foil lining, this 40-litre bag is the perfect place to store food or bait. It's got heavy-duty zips and the 600D polyester material, plus an adjustable padded shoulder strap with additional sternum strap. There's a large external zipped pocket for bits and pieces, too.
£44.95
Shop now
4 ESP Camo Rucksack 40 Litre
This new rucksack has been designed to sit high on the back for a much more comfortable load-lugging experience. It's got the same camo and fabric as the other items in the range, and has three external zipped pockets and a large central compartment for bulkier items. External webbing straps can house an unhooking mat and there's a reinforced base and lifting handle. The shoulder and sternum straps are also adjustable for a perfect fit.
£49.95
Shop here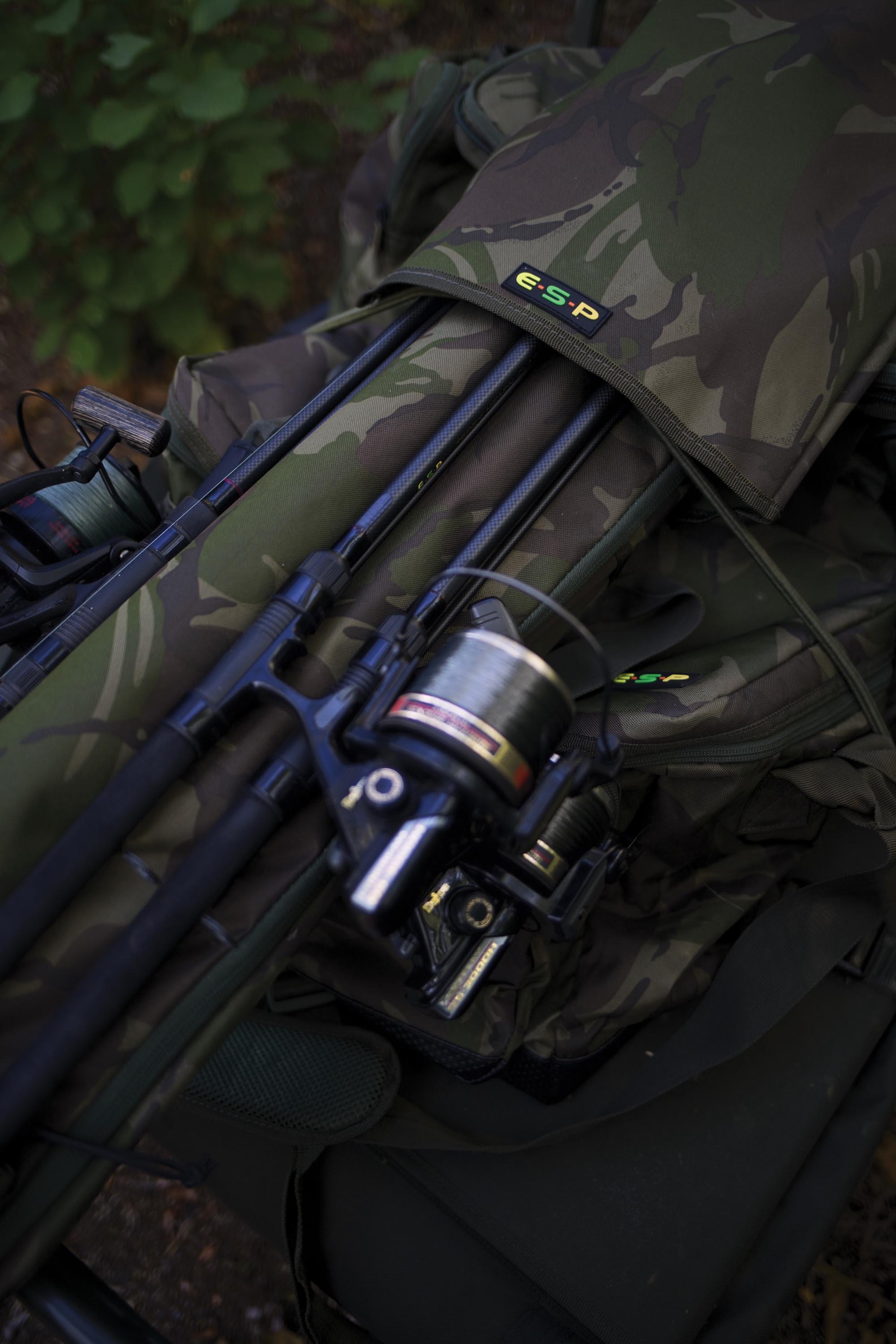 5 ESP Camo 3 Rod Quiver & Sleeve
This compact quiver will take three rods and a brolly. It has an adjustable padded shoulder strap and carry handle. There's a pocket for the rod butts and Velcro webbing straps to attach the rods at the upper end. A small webbing loop at the base helps you lift it into a car and the central compartment has a three-quarter-length zip for easy access. A zipped sleeve goes over the top for extra protection.
£39.95
Shop now
6 ESP Camo Bits Bag
The perfect place to store terminal tackle and associated odds and ends, this bag has a spacious external pocket and eight clear-PVC zipped internal pockets. A great alternative to a standard tackle box.
£24.95
Shop now
7 ESP Camo Rod Socks
These secure and protect your made-up rods so they don't clatter and rub together in transit. They're padded to protect tips and joints, and they suit a variety of butt-guide locations.
£10.95
Shop here
8 Small Tackle Case
Designed to store leads or other bits of terminal tackle, this case has two removable dividers,
a reinforced base and a clear-PVC pocket in the lid.
£12.95
Shop here

9 Large Tackle Case
This bigger version can replace your standard plastic tackle box and house all the terminal bits you need. It has three removable dividers, a clear zipped pocket in the lid and reinforced base.
£15.95
Shop here
---
In a nutshell:
Medium Carryall
Ideal for short sessions and travelling light.
Barra Bag
Large capacity session bag designed to be carried on a barrow.
Rucksack
Compact and comfortable to carry while still providing ample capacity.
XL Cool Bag
Excellent insulation properties which will hold a lot of bait/food.
3 Rod Quiver & Sleeve
A lightweight system for three rods, umbrella, net and banksticks.
Tackle Case Small
Padded zipped pouch ideal for storing leads and terminal tackle.
Tackle Case Large
Zipped pouch which makes an excellent substitute for a tackle box.
Rod Socks
Provide protection to top and bottom of broken down rods in transit.
Bits Bag
Large capacity for efficient storage of terminal tackle, spools, PVA etc.