Extreme Comfort
Trakker's now legendary 'The Best Bed In Its Class' RLX Flat-6 model has multiple this month and given birth to two siblings: one's compact and one's humongous and both are pretty damn awesome!
Years ago, you used to know where you were with bedchairs. They were uncomfortable; they only had two sets of legs; no padding to speak of and they came like an Ikea flat pack which you had to assemble. Not now, though. These days' bedchairs come with removable mattresses, four sets of legs and built-in sleeping bags. But all that extra comfort has come at a price with most companies… One, just that, the price and two, the weight. Luckily though, Trakker isn't one of those companies, as they proved with their 2013's hit RLX Flat-6 model – a bedchair which packed comfort with a wife-friendly price tag and even more brilliantly, this month the range increases by two.
The big questions...
Explain the original RLX Flat-6 to me.
The RLX is a legend, no question. Affordable to everyone (i.e. it's the cheapest bed of its type – just £149.99). It weighs just 7.5kgs – some 2.5-4kgs lighter than its competitors. It's big when open – 214 (L) x 88cm (W) and every-car-boot-friendly 76 x 88cm when closed. And it's build with the company's top-end Levelite bed's tech.
How do the two new models within the RLX range compare to the original then?
We'll start off with the RLX Flat-6 Compact Bed. As its name suggests, it's designed for all Martin Pick-clones – for those who use small brollies and shelters and are tiny roving anglers. It's incredibly light, 7.3kgs; incredibly compact, 192 (L) x 76cm (W) when open and 75 (L) x 76cm (W) when closed. It's an out-and-out space/weight-saver. In complete contrast, the RLX Flat-6 Wide Bed is a spacious, wider version of the original. It's heavier, tipping the scales to 8.9kgs, but in return for the increased flab it does mean you get an extra 22cm in length and 24 in width over the Compact and there's a blend of extra strong metals used in the frame.
Are they comfortable? Like, proper comfy?
Er, yes, proper! They all have a completely level profile so it feels like you're sleeping in your bed at home. They all feature a six-leg design with individually adjustable legs for maximum stability. They all come with an ergonomically-designed, padded fleece-covered mattress for optimum comfort and with the Wide Bed you get increased mattress support in key areas for an even more "proper" comfy night's sleep.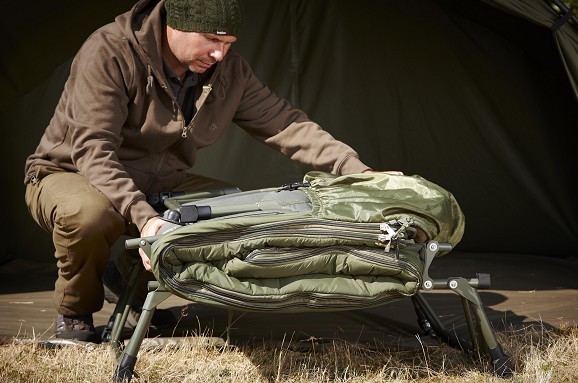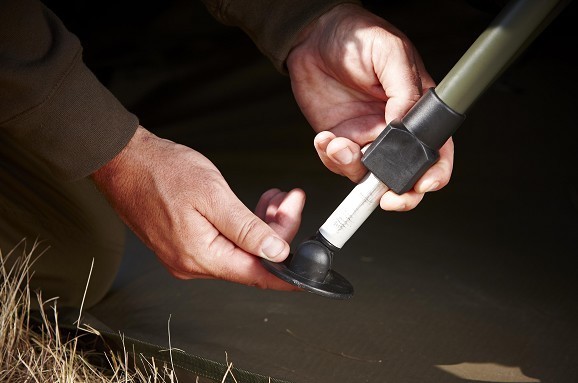 "Each bedchair has two personalities; very Jekyll and Hyde: super comfortable and strong yet still extremely light."
What clever features do they have?
Just like with the company's premium line of beds, the Levelites, the RLX range has been built minus the handwheels and this bold move has served two absolutely awesome purposes. One: it reduces weight, hence those incredibly low statistics earlier. Two: it meant Trakker could replace them with a hinge system which means you can now, 100% officially, store a proper thick winter sleeping bag inside the bed and it will still close completely flat. Rad!

How do they compare to their competitors?
Each bedchair has two personalities; very Jekyll and Hyde: super comfortable and strong yet still extremely light – a combination which, until Trakker hit the bedchair market hard, hasn't ever really mixed. All three of the RLX beds offer more in the way of their footprint/weight-reduction compared to their equally price-pointed rivals. It doesn't get any better. Wait, it does, we've not yet told you the price…
Well go on then, will my wallet like it?
Yes, it'll love it – as will the wife. These are all fabulously accomplished beds at extremely good prices. The Compact retails for just £129.99; the Standard at £149.99 and the Wide at £189.99.