Fortis XSR Binoculars
The science (and general knowledge) you need to know about before purchasing a pair of binoculars - one of angling's greatest aids
WHAT TO LOOK OUT FOR
With such a wide variety of features, magnifications and sizes, you can easily get lost when it comes to choosing a pair of binoculars. Ultimately you need to choose magnification and the objective lens size, which in the case of Fortis's XSR bins is 8 x 42mm. '8x magnification' is the optimum value which makes everything appear eight times closer to you. Scanning for fish at 300yds range, adjusting a Zig Rig, or looking for subtle bubbles at 80yds, 8x will
be fantastic. Any more than this, 10x for example, will be incredibly shaky without the use of a tripod.
HOW DOES MAGNIFICATION RATING WORK?
The first number is the magnification rating, which is how much larger an image will appear to the naked eye. "If you're looking at bubbling fish though our XSR's, they will appear 8 times closer than they would usually," states Darran Goulder, co-owner of Fortis. "8x is like looking through a 200mm lens on your camera.
IS BIG BETTER?
Compact bins are certainly good for travelling light, although the small objective lens on the front will struggle in low light as it will let significantly less light in at dawn and dusk. That means when the fish are most active, your binoculars will be too dark to see anything.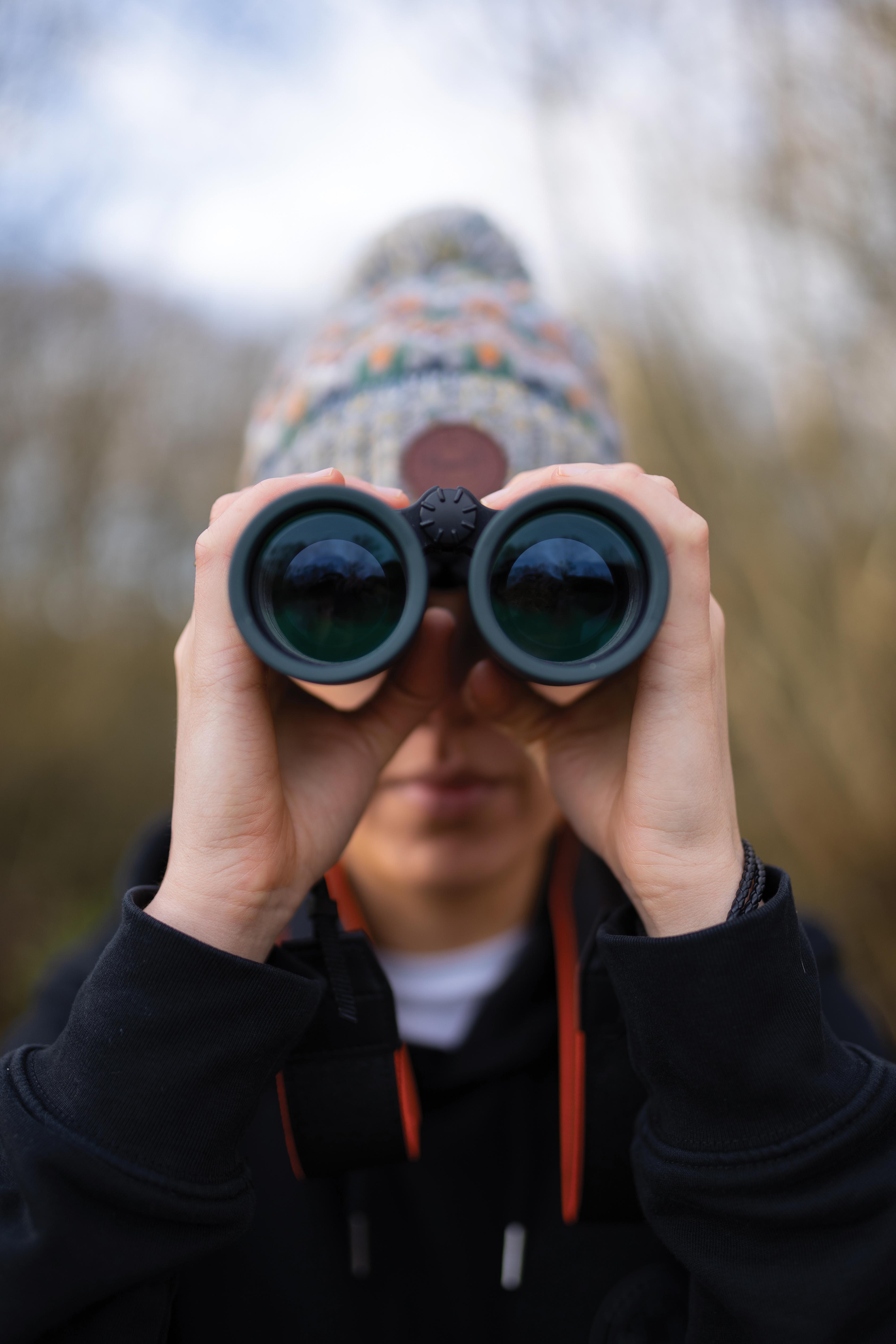 AUTO FOCUS: IGNORE IT
'Auto Focus'… That sounds brilliant, everything will always be in focus, right?! Wrong. It's a very misleading term. The binoculars don't actually auto or self-focus at all and there is no mechanism that automatically does this for you. They are basically fixed focus at a given rangev, and anything shorter or further than that will be out of focus!
BUT I WEAR GLASSES…
So what's the solution for someone who wears glasses? Goulder has the answer: "The XSR's are already equipped with adjustable twist-up eyecups which allow you to use these binoculars for scanning whilst wearing regular glasses or even your Fortis polarised sunglasses! Simply leave them twisted downwards when wearing specs, otherwise extend them fully which is great for blocking peripheral light. The right-hand barrel also has an adjustable diopter, which is a small dial that allows you to fine-tune your binoculars should one eye be better than the other. There's no stone unturned, we cater for everyone!"
AFTERCARE
The obvious one is keeping the lens caps on. But whatever you do, don't leave them on the floor of a dusty swim, or rattling around the bottom of your carryall with all the grit. They have moving parts and ideally you need to keep that free from any muck!