Fox Explorer Rods
Fox's latest rods can be fished at two different lengths
Short-rod fever has certainly taken hold of carp anglers in the last five years or so. Where once anything under 12ft was marketed as a specialist stalking or floater tool, we now have an array of manufacturers making 10ft, 9ft and even 6ft carp rods for everyday use. Their popularity has taken many by surprise, but there are clearly enough carp anglers out there who want to travel lighter or prefer to fish smaller venues. Some of these compact rods are three-piece versions, some have retractable butt sections for a smaller pack-down length, but none has been usable at two different lengths before. Until now…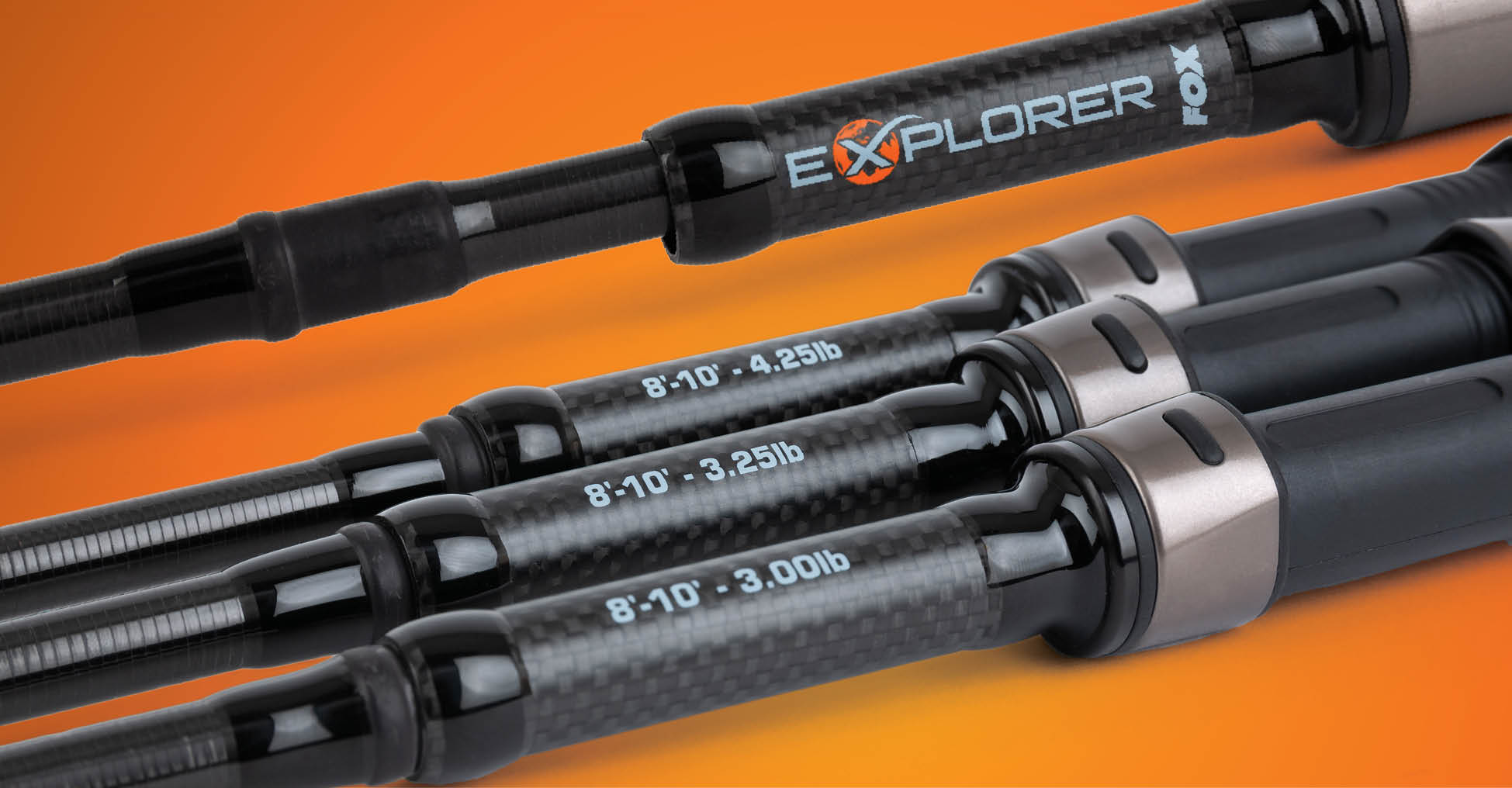 The Big Questions
Two rods in one? How?
Fox have taken their time in jumping into the retractable-butt-section market, but it has clearly been time well spent. Unveiled recently, these new rods can be used with the telescopic section fully extended or fully packed down.
That must've taken some engineering skill!
It clearly has. These new Explorers - which can be either 8ft or 10ft long - are based on the very popular and well-received Horizon X3 blanks, so they're certainly not Mickey Mouse. The two-lengths trick works by locking the extending butt section in place at either height. There's a stopper just above the reel seat, plus a spigot on the inside of the handle to keep the retractable section firmly secured when used at 8ft. The butt guide has also been located in the optimum position for use at both lengths.
Why would I want two different lengths in one rod?
The benefits are manifold. When stalking, wading out to a spot or placing a rig under overhanging trees you can have the rod in 8ft mode for easy manoeuvrability and dexterity, then, once you are back at your swim you can call on the extra two foot for more control over any fish that picks up your bait. The same principles apply for boat work, and you can always keep the rod at 8ft for really tight swims, like narrow canal towpaths, stalking spots or restricted casting zones where low-hanging tree branches are a problem. You also get the benefit of a much shorter pack-down size for easier storage in tight spaces like the boot of your car.


How many versions are there?
Fox have so far released three different Explorers. There are 3lb and 3.25lb versions for general carp angling, plus a beefed-up 4.25lb version which can be used for larger species like catfish or for spodding. Fox recommend it is
only used for spodding at its full 10ft length, however.
What features do the rods have?
Being based on the Horizon X3 blank, the Explorers boast a lightweight, high-modulus carbon construction giving them a surprisingly decent casting capability. They also have lightweight double-legged guides with an anti-tangle tip ring. There are 40mm but guides on all models, alongside 18mm DPS-style reel seats. Each rod also has a full Japanese shrink wrap handle with a flared butt grip, plus black whippings and understated graphics. And the rods cost £99.99, £109.99 and £119.99 depending on which test curve you go for.