Fox R-Series Camo Sleep System
Fox's newest complete sleep system is a versatile bed for a sound night's sleep
Fox have been in the bedchair game from the very beginning and their new R-Series Camo Sleep System shows they still lead the way. The R-Series range of products replaced the popular Royale line last year and is designed to offer high performance at a competitive price. This complete sleep system, which was inspired by the very popular R2 Camo Bedchair, typifies that ethos and offers plenty of bang for your buck, with a flexible design that can be set up just how you like it.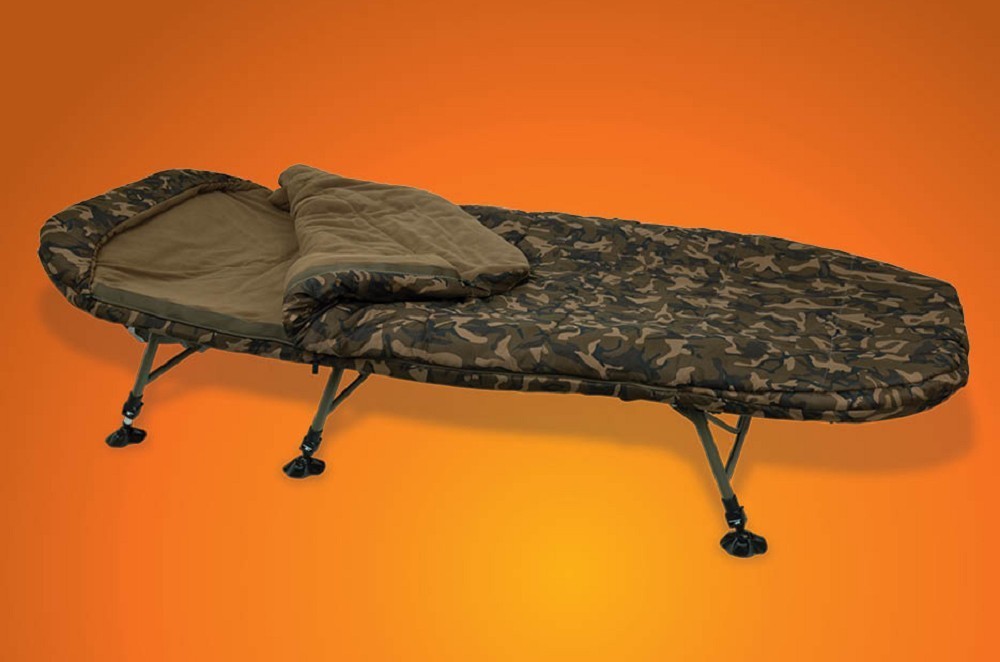 The Big Five
1 Built-in sleeping bag
Being a sleep system, the R-Series has a built-in sleeping bag. It's a four-season offering which zips easily around the perimeter of the bed and can be fully removed if required for cleaning or air circulation. The top half is fleece-lined for warmth and comfort, while the bottom half is polyester for unrestricted movement. A large internal thermal baffle keeps warm air in and cold air out. The bag is lined with 10mm heavy-duty crash zips for an easy exit when you get a bite, and has securing clips if you want to keep one side from flapping open.
2 Six-leg design
This bedchair has the now-common six-leg design, offering all-round stability and comfort. There is no handwheel, meaning the full-width of the bed is always usable and you won't roll over onto an uncomfortable cam mechanism. All six legs are adjustable for height, so you can raise the bed from its 30cm minimum height up to 40cm. The spring-loaded adjusting mechanisms on each leg are simple to use and stay in place exactly where you want them. Each leg is capped off with an adjustable mud foot, giving the bed a safe, planted feel over soft terrain.
3 Full support
There is nothing worse than a saggy bedchair that can cause a restless night's sleep and eventually lead to back problems. Thankfully, the R-Series Camo Sleep System is beautifully supported thanks in part to additional lumbar support across the two mid-sections of the bed. This additional corset-like support keeps the mattress taut and responsive where you need it most around your back and hips. In addition, this bedchair is also traditionally sprung around the perimeter of the frame, and the mattress itself is padded and fleece lined with a built-in pillow for all the comfort you need.
4 Easy storage
The downside of having a comfortable, well-supported bedchair can be added bulk and an awkward pack-down size. Again, the design gurus at Fox have thought of this and have made the R-Series Camo Sleep System a flatpack marvel. Each section is articulated with double hinges to accommodate the built-in sleeping bag, and Fox's unique side tension straps allow you to ratchet down the whole package into a neat flat shape. The complete system weighs 16.1kg, which won't break your back as you load it in and out of your car.
5 Value for money
With a recommended retail price of just £269.99, the Fox R-Series Camo Sleep System gives you a quality all-in-one bedchair and sleeping bag at a very competitive price. The camo patterning is, as you would expect from Fox, very nicely presented and the bedchair frame itself feels sturdy and built to last. The fleece-lined mattress, which is also camo lined, is soft to the touch yet firm enough for a great night's sleep. And if the four-season sleeping bag isn't quite toasty enough for sessions in the depths of winter, then you can also purchase an additional waterproof cover (which is great for al-fresco summer sessions too) from the Fox range.