Hot metal
They're black, packed full of technology, well priced and disgustingly beautiful. Say hello to Avid Carp's first ever reel collection
When the Midland-based company first told us they were to be releasing two reels in the summer of 2013, they hinted they'd be something a little special and a little different to the norm. To be honest though, we already knew that – this is Avid – they don't do 'normal', they do 'unique', and with this, their first reel collection, they've achieve just that.
There are two models within the range – the Air Range Spod Reel and a general angling reel which goes by the name of 12000CC – but we'll come to that one later, for now, lets look at their purpose-designed spod reel.
For this reel, the Avid designers looked at a wide selection of traditional big pit reels, saw what they all had in common and then removed 90% of the 'big pit' trademark features and replaced them with, well, less features. You see, unlike their competitors, Avid realised less is more when it comes to features and power is king when it comes to mechanics. Power and spod reels go together like Luis Suarez and anger issues, and for Avid's Air Range the designers created a gear ratio of a mind-bending 5.7:1 – that beats their nearest competitor in the dedicated spod reel foray by .6. In carp angler speak that means their competitor's reel will retrieve "over 100cm of line for every handle turn" whereas the Air Range Spod pulls in nearer 110cms.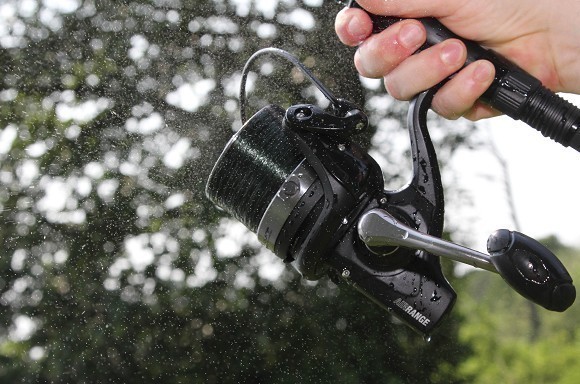 Remaining within the carcass, you'll find seven stainless steel ball bearings – three more than the competition; the body's made from a lightweight aluminium (a mere 680g) so it's comfortable to hold during prolonged baiting up sessions; and it features a quick-fold handle and an anti-twist roller.
The big visual difference though, is there's no clutch or drag system – see, we weren't lying when we said they stripped it back – but this wasn't a cost-cutting exercise – it's a very unique feature, which as with all Avid products it's not until they do it, that you stand back and think, 'how the hell did I live without that?' By binning a clutch it means there's zero chance of the spool ever slipping on a big cast, which for those who have had it happen, you'll now be jumping for joy and for those who have yet to experience it, buy this reel the moment you finish reading this review.
As if all these features weren't bad enough for the competition, to rub salt into the wounds, Avid are selling the Air Range Spod Reel for just £99.99 – that's nearly £40 cheaper than their next best rival…
Avid Carp 12000CC Reel
If you think the Spod Reel is stunning, just wait until you meet the 12000CC reel – this is the S&M version.
The looks
The first thing that strikes you is the unique front drag dial, which really is brilliant, but more on that later. The rest of the bodywork is faultless – its matt black paintwork looks stupendous and the chrome-looking handles (they supply two), one with a wood handgrip, the other a rubberised one just compliment the overall cosmetics perfectly.
Features
Not only have Avid got the inner workings right – the grizzly stuff – but they've loaded it with tech, too. 12 ball bearings, lightweight aluminium sealed body, a quick release spool, sprung line clip, anti-twist roller and comparable weight to most big pit reels in its class of 729g. The 12000CC also comes supplied with two spools: Shallow which holds 320yds of 12lb and the Continental that'll hold 600yds.
Functionality
Thanks to those 12 ball bearings, the 12000CC really is amazingly smooth, but the most stupefying achievement by the design team has to be the lack of reel wobble; it remains perfectly straight and true. Moving back up front we have that very clever custom control drag dial which features settings 0-10 and really is super sensitive. Pushed, CARPology would say it's one of the very best clutch systems it's ever tried out.
What's the damage?
The 12000CC will retail for a very competitive £159.99 and at that price, for all of those features and the stunning cosmetics, it really has to be awarded the title, 'Best in its Class'.