Indulge Yourself With Nash Tackle's Sleep Systems
Here's our five point guide to why the latest range of Indulgence Sleep Systems has something for everyone…
1. The Indulgence concept
Nash have led the way with combined bed-and-bag sleep systems for many years, and the latest Indulgence beds have been further improved in design and materials. If you opt for a 4 Season version you get a single hollow-fibre-filled high-performance duvet with quality crash zips. The 5 Season models have twin duvets that, like the 4 Seasons, zips on and off the mattress for cleaning.
2. Comfort as standard
All of the beds in the range feature a high-density foam mattress and a lie-flat frame for a comfortable night's sleep. New on these latest models is an extended and uprated lumbar support system which sits beneath the centre and head sections of the beds and stops them from sagging. All the duvets feature a smooth nylon underside that won't snag and bunch up as you sleep, plus Nash's body baffles keep warm air in and help you heat the bag quickly in the first place. You also get external draught baffles to keep cold winds at bay. All-round stability is boosted with an adjustable single leg at the head end of the SS3 and Compact models, while the SS4 models also get another single-leg support at the foot end. The Emperor model - the Super King-sized bed(!) - a has double-leg supports at both the head and foot end.
3. Huge range
There are a total of 10 beds in the Indulgence range, which means there is certainly one to suit your style of angling. Half of them are rated to four seasons, while the other half offer five-season protection. At one extreme you have the 4 Season Compact, which retains all the comfort you come to expect from the Indulgence range but weighs in at just 9.5kg. At the other end of the scale you have the mighty 5 Season Emperor, which comes in at 20kg but has giant dimensions of 2.12cm long by 1.15cm across for those who love a bit of room when they sleep. In between you've got a variety of standard and wide-sized beds for all eventualities - and they're all lighter than you might imagine.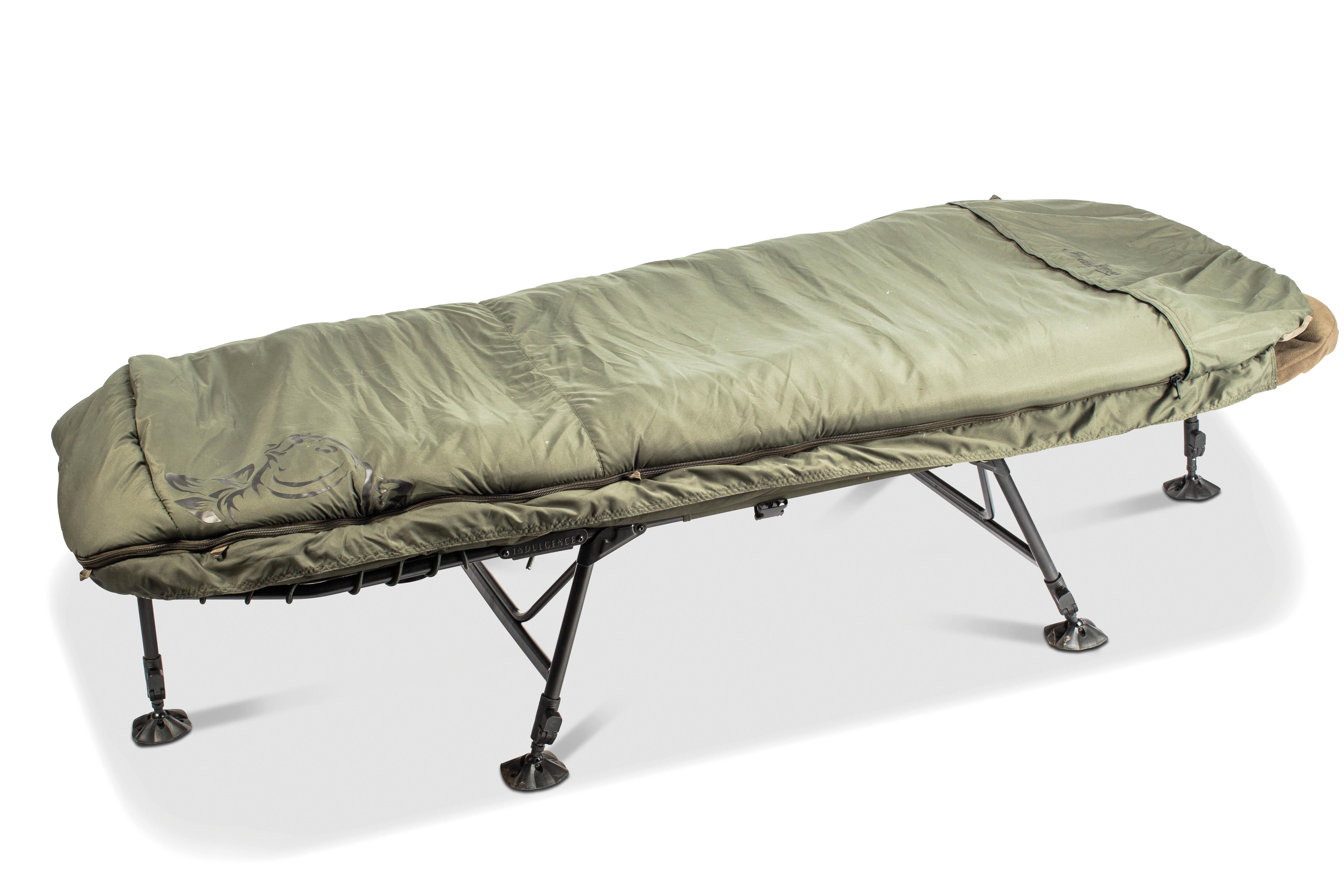 4. Go tall
There are four SS4 versions of the Indulgence Sleep Systems - a wide and a standard with a four-season rating and a wide and a standard with a five-season rating. These beds have a longer frame and mattress and have taller legs than the SS3 models, making them ideal for larger anglers or those with a bad back who struggle to get up from a lower sleeping position. Across the SS3 and SS4 range all the adjustable legs are spring-loaded, which means they shoot out with no fuss and can be operated one handed making setup on uneven ground a doddle at the touch of a single button.
5. Loads of features
Each Indulgence Sleep System features the same selection of neat extra features that show Nash have really thought about the demands of the modern carp angler. A USB connection at the end head allows you to store a powerbank on the underside of the bed in a designated pocket and route your phone-charging cable neatly through the mattress. You also get a mesh valuable pocket on the side for storing essentials like your phone, keys and alarm receiver. Extra-large hinges on the beds also mean they fold perfectly flat in transit for easy stacking on a barrow or even a boat.
---
---
EXTRA COMFORT AVAILABLE
Indulgence Pillow
Embossed with the Indulgence logo, this luxury pillow can be reversed for sleeping on either the smooth nylon or micro fleece side.
Indulgence Winter Shroud Compact
Filled with hollow fibre, this shroud adds an extra season to the rating of a SS and can lay on top of the duvet or be propped up.
Indulgence Mattress Sheet Compact
Fitting over the mattress, these washable sheets help keep your bed clean and provide a cooler sleeping base in warmer weather.
Nash Bed Buddy
This compact chair sits atop both Wide and Standard beds and has adjustable back support through buckles and webbing.