Let's Stance! Sonik's new AXS Levelbed
The latest lie-flat design from Sonik has support where other six-leg beds do not
In the unlikely scenario that you were asked to identify a series of six-leg bedchairs from their side-on silhouettes alone (a strange task, we know, but we'd probably watch just such a gameshow all the same…) you'd be very hard pushed to make out any distinguishing features from one to the next. Not so with this new one from Sonik, the AXS Duralloy Levelbed, which has its legs in places other beds can't reach…
1. Design
This is where the AXS shows its innovation. Sonik calls it a 'Stance' frame and it effectively means the legs aren't where they are on traditional six-leg beds (i.e. either side of the central panel and at the head end). The 'outer' legs (the ones at the feet and head ends) are much more spaced out, meaning there's even weight distribution throughout and more support for the overhangs. It's one of those simple but effective ideas that offers the rigidity of an eight-leg bed without the extra weight. That feeling of reduced bulk is emphasised by the large bracketed hinges that can accommodate a sleeping bag in the folded position and the twin compression straps to keep it all in place during storage.

2. Materials
Despite the clever design, Sonik haven't neglected comfort here. The AXS's mattress is made from 30mm foam for a comfortable but slimline package, and it's topped with a Cordurflex-lined centre section and a luxurious peachskin skirt. You also get two lightweight side storage pouches for storing essentials like your phone or receiver on whichever side of the bed you like to sleep on.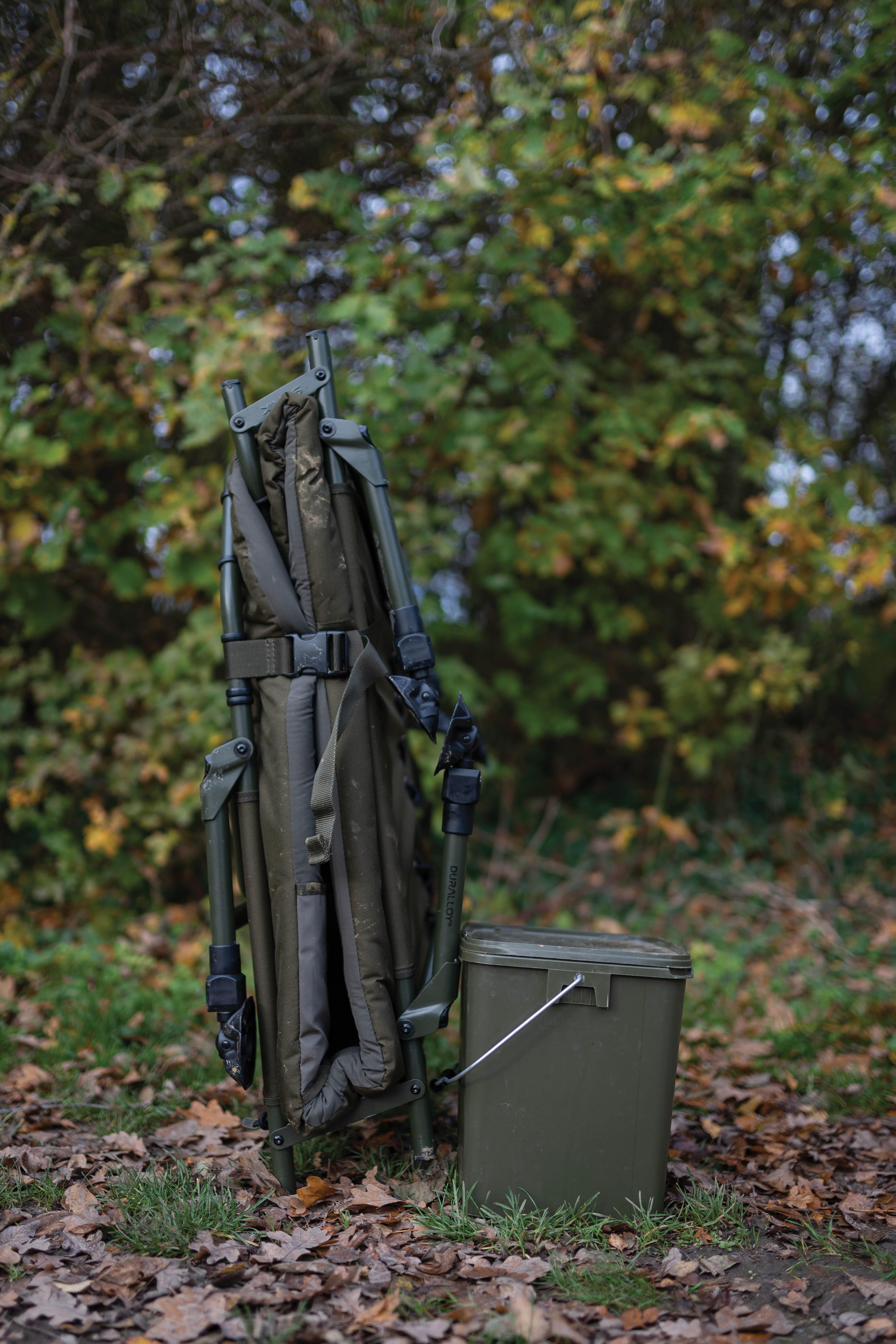 3. Comfort
As is the fashion for carp beds at the moment, this is a lie-flat system which is definitely more conducive to a comfortable night's sleep than older designs. The aforementioned foam mattress is not the thickest but it's more than up to the job, aided by wraparound lumbar support in the top two sections to reduce sag and the resultant backache!
4. Size and Weight
The alloy frame - Sonik call it Duralloy, presumably because it's very tough - helps keep weight down to an incredibly impressive 7.5kg. For a well-supported bed with decent foam on top that's seriously light. There is no scrimping on size to achieve that figure, either. It measures a full 205cm long by 80cm wide. With adjustable legs, tipped with large mud feet, its height can stretch from 35cm to 48cm.
---
---
5. Verdict
Thanks to its unique design, this is a bedchair that holds its ground and offers a reassuringly planted feel in any swim. At no point do you feel like you're over-stressing any joints or overhangs and yet it remains a compact package that's impressively light and comfortable. It's no mean feat to combine all those attributes and remain competitively priced at under £250, and Sonik should be commended for bringing it all together in one package.
---
We Really Like
New Stance frame, which really does offer unrivalled stability.
The super light-weight frame.
The two compression straps to help with compact storage.
And the side storage pockets - very handy.
---