Like a bedchair - just lighter
The FX Flatliter Bed & Bag System: yet more genius from our friends at Fox
When Fox launched the original Flatliner in 2011, it was met with the kind of praise that usually greets a new product from Apple. It has reviewers binning their current bankside bed – and in some cases their double beds at home – in place of what was the world's first completely flat bedchair. Fox's thinking behind this new concept was that at home you sleep on a flat bed and build your head up with pillows so why not apply the same theory when sleeping on the bank? It was a brilliant thought concept which resulted in a brilliant product – and a product which kick-started Fox's incredible run of outstanding products.
This month, just 30 days since we last sung their praises for the Zig Disc Kit, they've given us another reason to thumb through our thesauri looking for synonyms for 'groundbreaking'. What you see before you is called the Flatliter and is the next generation of bedchair. Where with the original the Fox designers created rotating 180-degree cam wheels, with this new model they've binned them all together.
"Since the launch of the Flatliner, more and more anglers have grown to appreciate the benefits of not having the cams in the way," reveals Fox's Group Media Manager, Lewis Porter. "And in fact many anglers now don't even require the cams as they use a bedchair only for its bed functionality and not to also be used as a chair."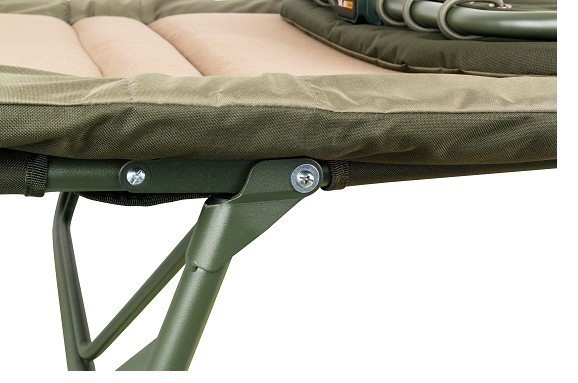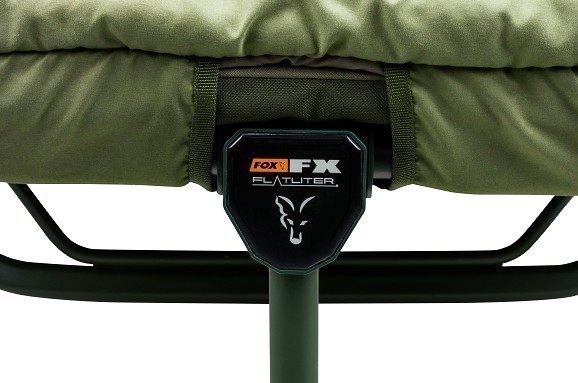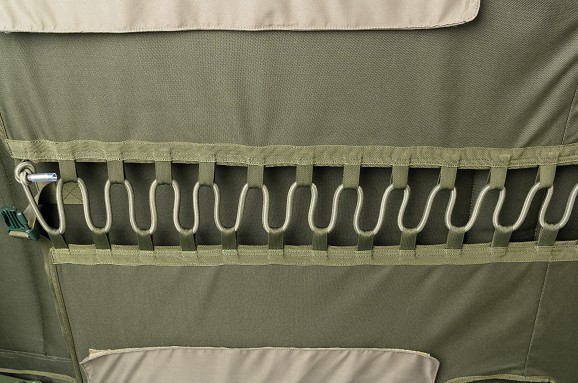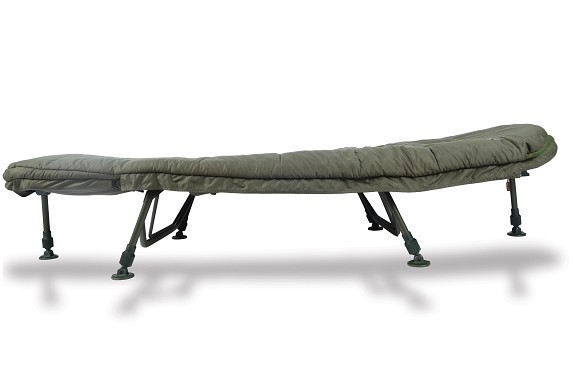 With this in mind and taking into consideration the sheer number of anglers requesting a more compact, stripped back, lightweight sleeping option, Fox set about developing a new concept in bedchair design or should we say 'bed' design and the result is this stunning Flatliter concept that comes as a full system with a detachable sleeping bag.
In place of the binned cam wheels, Fox have used a double hinged bracket at both the head and foot end. To add back in extra support and stability, they've increased a unique leg design with single legs at both the head and foot end and this means you only have six legs rather than eight but still have full support at both ends and the result of this is a vast reduction in weight. Where Fox also score over their competitors is with the one-piece lumbar support on the middle and head section. This gives a much firmer mattress and prevents sagging – a common issue on most other bedchairs. To ensure the bed folds away extremely compactly, Fox have included a heavy-duty tension strap with a glass-filled nylon clip to secure the bed closed for transportation.
The sleeping bag is rated as 3-4 season and has both internal and external zip baffles to ensure there's no draughts. There's extra warmth too, thanks to a soft-touch, high-density fleece covered mattress. But the part which Maximum Carp really loves is the easy-glide polyester inner lining, which, unlike fleece, this doesn't 'grab' and remains cool in summer but warm in winter.
Taking more inspiration from your normal sleeping experience, Fox have filled the sleeping bag so 20% of the filling is below you and the other 80% is above you to prevent heat loss – very much like your bed at home where you have a thin sheet layer beneath and the bulk of the quilt cover above you.
Measuring an impressive 210 x 90 x 40cm with a maximum height of 55cm – and having a built-in sleeping bag, you'd expect it to both weigh a tonne and have quite a big footprint when folded away. Well, you'd be wrong on
both counts: the bed and bag combined weigh just 12kgs and when packed away it measures just 82 x 90 x 28cm! And now you're thinking it's going to cost a fortune right? You'd be wrong again. At £299.99 it's some £70 cheaper than their competitors.
And so the outrageous run of excellent products continues from Fox. Good work, guys, good work.
£289.99