Make Yourself Comfortable With Daiwa's New Range!
Daiwa aren't just about rods and reels, you know!
Daiwa have really pushed the boat out with their latest drop of accessory items. Yes, we all know they make some of the best rods and reels in history (look at any 'Must-Have Cult' rod and reel type features and Daiwa will dominate the top 10 slots), but now they're bringing their bankside hardware into line too. You're sure to see plenty of these lakeside in 2021.
Bedchair Sleep System
Daiwa's first entry into the 'sleep system' market, this bed-and-bag combo is a quality debut. Like many beds on the market today, it's based on a lie-flat design with no obtrusive handwheel or ratchet system on which to painfully roll during the night! Six legs provide support throughout, while the steel frame is both sturdy yet far from heavy. Adjustable leg extensions and mud feet keep everything planted and level. The sleeping bag itself is attached to the mattress via a zip and is dual layered for comfort and an adjustable level of warmth throughout the year. The zips are high-quality and easy to open in the rush to hit a screaming run. There are clips on either side of the bag that can hold the zip on the opposite side to your rods in the 'done up' position, which is a neat touch for keeping your bag in place when bites occur. Rated at a genuine four seasons, the bag is very warm and comfortable without being hugely bulky. The whole unit packs down very flat for transporting and everything is held in place with a heavy-duty strap and buckle. £249.99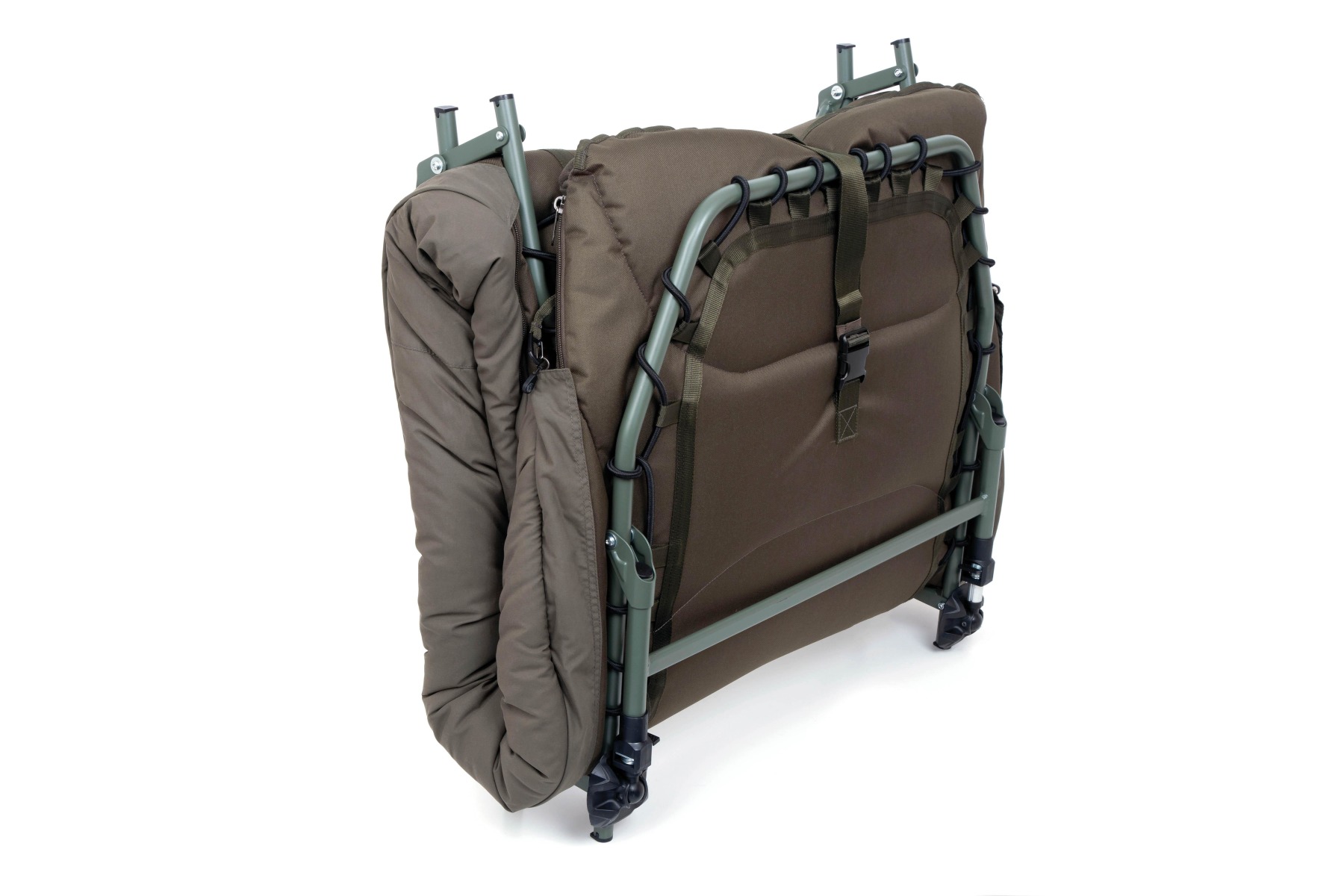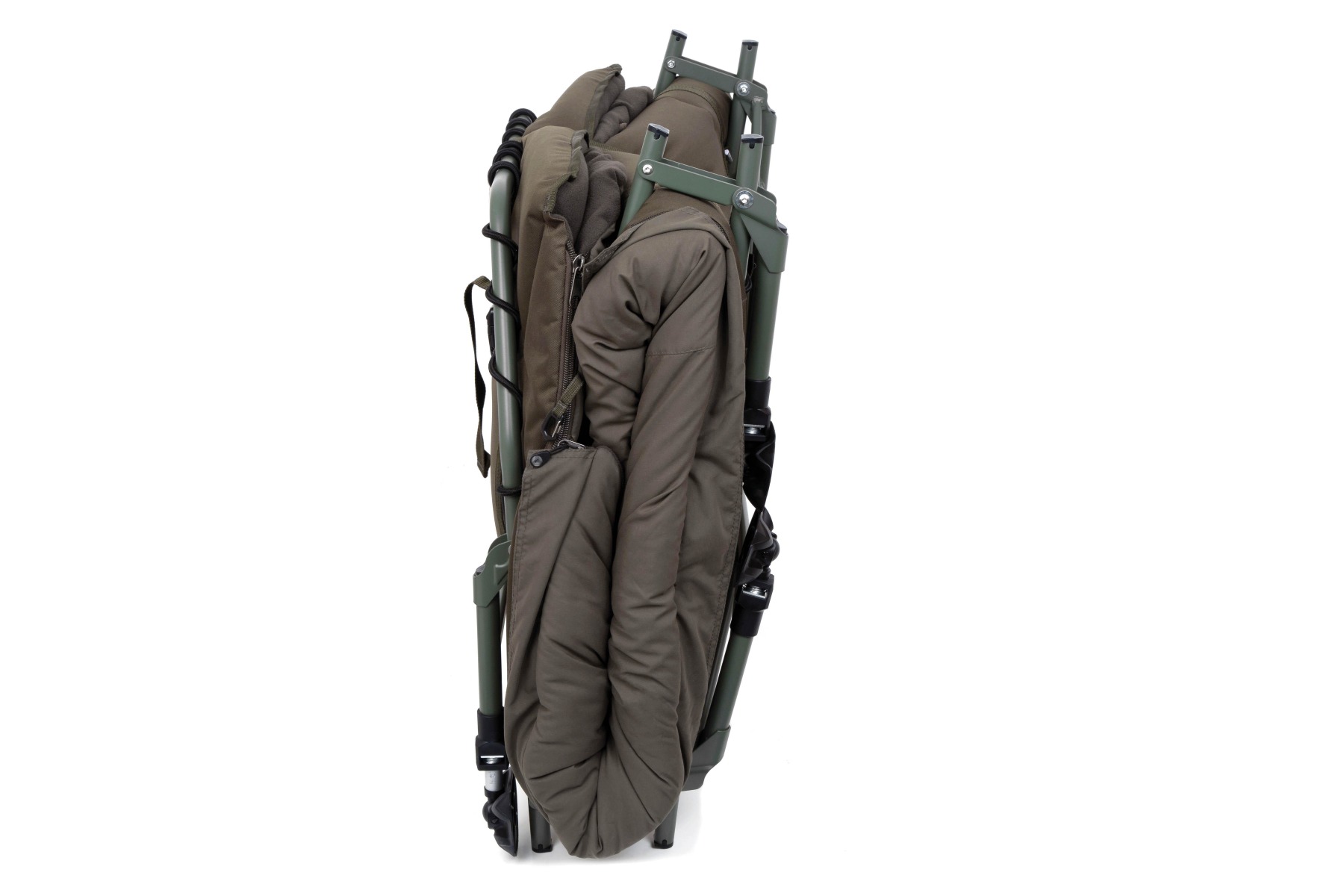 Bedchair Cover
Adding a simple layer of extra protection to the Daiwa Sleep System, or any similarly sized bedchair, this polyester cover keeps your sleeping quarters clean and free of creepy crawlies. Ideal for use during the day when you might be sitting across your bed, it fits snuggly with an elasticated hem. £12.99
Overbed Chair
This is a proper chair that barely takes up extra room in your bivvy because it sits atop your bedchair. The front legs are adjustable with large mud feet, while the rear hook is also adjustable to grip perfectly on the far edge of your bed. Constructed around a steel frame, it's light and comfortable, and will transform how comfortable you are when sitting across your bedchair. £74.99
Folding Chair with Arms
This low-slung chair is incredibly comfortable and well designed. The armrests provide support and leverage when getting in and out of the low sitting position, while the sumptuously thick mattress just begs to be sat in. It extends over the front lip of the chair for comfort and a bit of extra warmth, while the adjustable front legs provide all the tweaking you need to get level. With a lightweight steel frame, this chair folds down easily into a compact package. £74.99
Floating Weigh Sling
The perfect temporary resting place for your prize catch as you ready scales and camera, this floating sling ticks all the boxes. With plenty of meshing and holes for oxygen flow, plus rigid floatation tubes, it won't impede the carp's ability to recover. There are carrying straps at either end, reflective strips for easy location in low light, and a very sturdy cord and bankstick attachment. £59.99
Folding Unhooking Mat
This high-walled, super-protective unhooking mat folds down into a surprisingly small package—complete with a stuff sack. It features a large side pocket for storing forceps and anti-bacterial liquids, plus a padded kneeling flap for comfortable catch shots. The mat itself is PVC and easily wiped clean, and is as thick as you could ask for when protecting precious carp. £89.99
---