Meet The Levelites
Completing the Trakker bedchair family, say hello to the Levelite 'Wide' and the 'Compact'…
At CARPology, we love the original Trakker Levelite. A bedchair that's light, yet strong, affordable and comfortable ticks every box for us. Thankfully, the Levelite family is growing by two, with the arrival of the 'Wide' – which will be the largest yet lightest bedchair on the market, and the 'Compact', which from our research looks like it will be the largest/lightest mini bed going.
The big questions
Why another two bed chairs?
Two words: customer feedback. Since Trakker launched the original Levelite in twenty-thirteen, they've been inundated with requests for a more compact version – one specifically designed for use with brollies/smaller shelters and the type of guy who is very conscious about travelling light – so hence the arrival of the 'Compact'. The 'Wide' is a different beast. It's been designed for the chap who demands a super-comfortable, luxurious bed; one which is big and spacious, and that's exactly what the 'Wide' is thanks to having an extra 14cm of additional width over the original Levelite.
So how do they compare to other beds on the market?
We'll start with the 'Compact'. It's light – lightest-for-its-size-on-the-market light. Measuring in at 194 (L) x 74cm (W), it's some 20cms shorter and 14 narrower compared to the original and now has a ground height clearance of just 28cms, enabling it to fit under virtually any shelter. It's not just compact, it's light too, tipping the scales to just 8.8kgs.
Now onto the 'Wide'. For what is essentially the market's new largest footprint bed, measuring in at 214cm long by 102cm wide, it's not actually that heavy, weighing just over 11.5kgs. Okay, combine a sleeping bag with that and you're looking at around 14/15kgs total weight, but that's still lighter than
their competitors' offerings.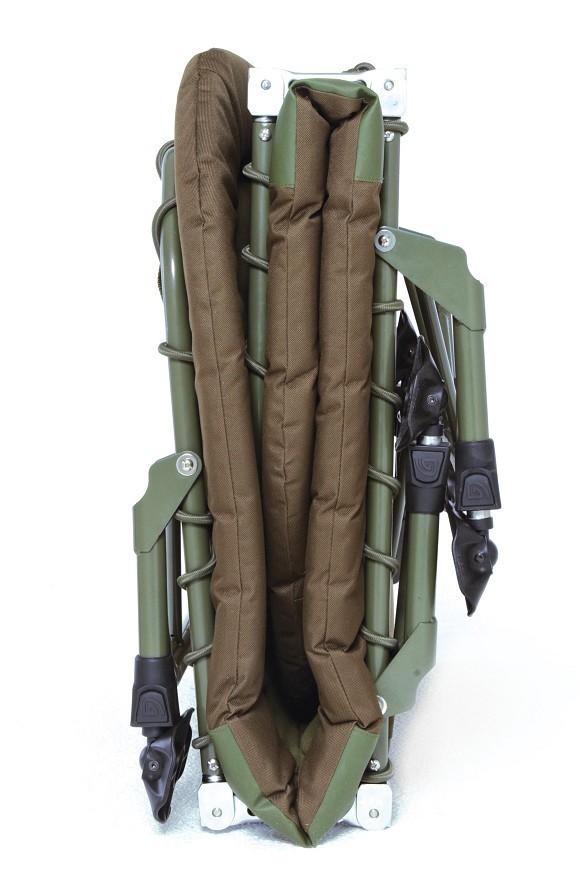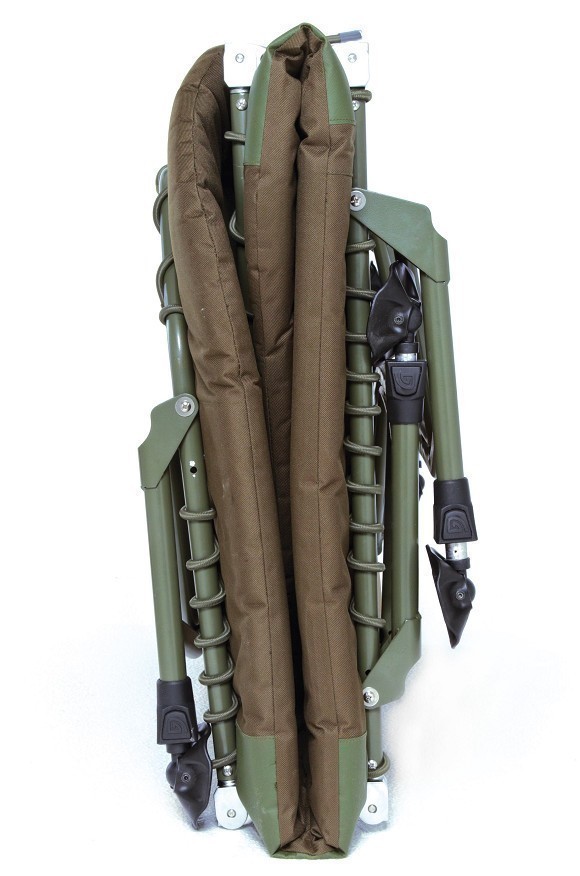 Ahh, that was my next question: can I get it to close properly with a sleeping bag still inside?
Yes, and it's partly down to the clever system Trakker have used to help bring the weight down. By binning traditional handwheels which are, well, just old, annoying and don't really work, it has allowed Trakker to incorporate a hinge system which means you can store a proper thick winter sleeping bag in there and the bed will still close completely flat for transport. Good, eh?
Indeed. Are there any other clever features I should know about?
Lots. They have a completely level profile (hence the product name) for a perfect night's sleep; they come with ergonomically-designed fleece-covered mattresses for optimum comfort; unlike most other bedchairs, these are free-standing when in a closed position; and they feature rotating mudfeet on the ends of the patented mechanism on the legs: push the button and it drops into position. It's all top stuff at a very competitive price.
Go on, how much…
The 'Wide' has an SSP of £329.99 whilst the 'Compact' has one of £229.99. Are they worth the money? You bet. Top work (again), fellas.