Nash Tackle Groundhog Brolly
CARPology editor, Joe Wright, gives his feedback to the company's clever new take on the oval brolly – traditionally a system which he very much dislikes…
On paper and in practice I should hate this new brolly from Nash. It's an oval, and I'm not that keen on those. They move from side-to-side as you set them up; they have spokes which you bang your head on; and because of those damn spokes you can't always get your bed far enough back to get some protection from the rain. But I don't hate it; I absolutely love it.
So what then has Nash done with the Groundhog Brolly to change the mind of someone who's an avid lightweight pram-hood style shelter user? Well, first off it's light. 5kg complete, 3.2kg without pegs and storm rods light. And all good anglers realise the importance of mobility; it's an indispensable quality that we've all learnt from the likes of Hearn, Lane and Sharp. It's also extremely thin when packed away, and so you achieve that same 'pack-away size' you had the first time you took it out of the bag, Nash has fitted it with an adjustable webbing strap which, when tightened down, gives the Hog B a circumference of less than 12-inches.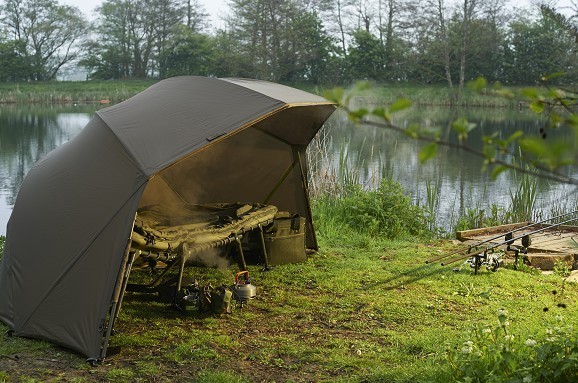 Now whilst all this lightweight and compactness is great, the real reason why I'm so passion about this shelter is the clever new frame the company has used. It's a second-generation version of their space frame and the result is a more compact central stub and internal rib assembly which gives you masses of headroom (no more banging your head) and means your bedchair can be tucked well back into the brolly (no more getting wet).
It's not only this much shallower central stub and spokes that Nash has tweaked when it comes to the frame. This Hog B has four ribs in contact with the ground and when coupled with the two storm rods (which come supplied) it finally means you have an oval that really is rooted (which it honestly is and not just some shitty brochure sales text) to the ground.
This frame also has one other advantage over all previous oval models I've trialed for reviews (well, apart from the Carp-Tech Oval but that ceased production when the company wound-down back in 2008): when the front is pulled right down to protect you from the elements, the brolly almost has a hunchback which gives you loads of internal space and headroom. And it's for all of these reasons why I'm finally impressed with an oval brolly set-up.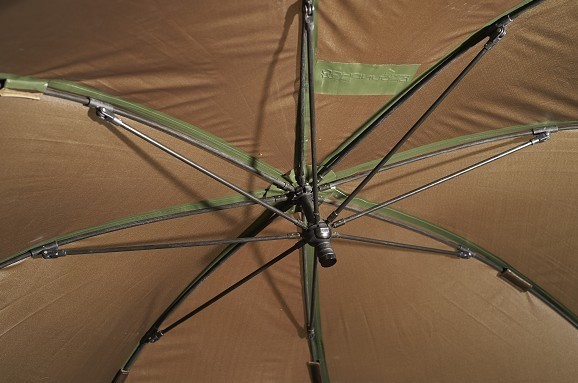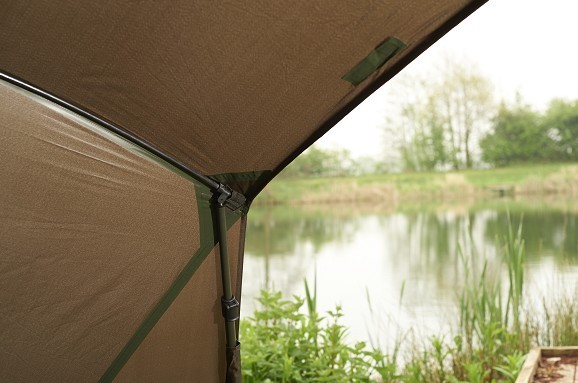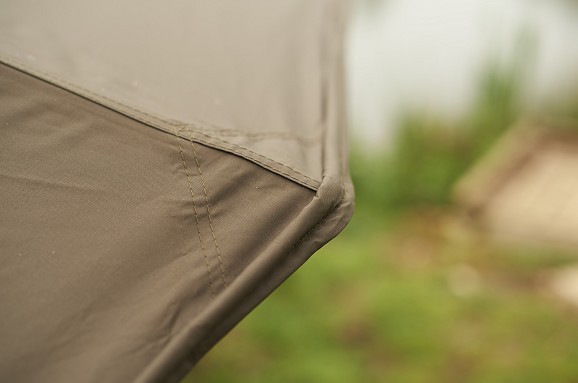 Of course it comes with many bells and a fleet of whistles. It's wrapped in their slick, tape-seamed Aqua Sense Hydra material which, albeit hasn't been tested to the max since I received the Hog B, I am a user of other Nash bivvies and this material hasn't let me down before so I have no reason to doubt its usage here. There's a rain gutter to prevent front water run off; reinforced rib ends, two rod straps and there's an option heavy-duty groundsheet (£39.99). You can also convert it into a full-blown bivvy thanks to the Groundhog Brolly Winterskin (£131.99) which does of course provide extra space and comes supplied with clear doors/windows and pegs.
It's a real shame Nash didn't send us the Hog B for inclusion within out Hardware 'Short Session Shelters' comparison test two months ago. Had it been, it sure would have got my vote, as in my eyes it's absolutely faultless.
"Gimme": £154.99