Prologic's K1 Low Profile Rod Pod
Want a rod pod that does it all? Prologic might have the answer with their brand-new K1 Low Profile Pod
Some anglers turn their noses up at pods, citing their comparative size and bulk when compared with just no-nonsense banksticks and buzzer bars. But that's rapidly becoming an outdated point of view, with a new breed of versatile pods offering stability and go-anywhere capabilities without looking like a North Sea oil rig. This little gem from Prologic is the perfect case in point.
---
YOUR BIG QUESTIONS
I'm not sure about rod pods…
They used to be bulky and a bit clumsy looking, but not anymore. This kit from Prologic doesn't even have to be fished as a rod pod anyway. Everything you get in the bag can be fished with single sticks and buzzer bars or as a goalpost set-up. When you need extra stability or are fishing on hard ground then it can be turned into a pod.

Pretty versatile then?
Very! Available in two or three-rod versions, the K1 Low Profile has a very low centre of gravity - and thus more stability - when used in its pod formation. The horizontal bars sit low to the ground with single uprights supporting each alarm head and back rest, much like on the ultra-high-end Korda Singlez set-up. This configuration can be fished with or without the stabilising central bar that runs between the front and rear sticks.
Okay, I'm liking that! But it sounds like a lot of metal and a lot of weight?
The whole thing is made from black anodised 16mm-diameter aluminium to keep weight down, and because the upright pod sections screw together to create standard single sticks there's no unnecessary extra weight. It really has been very well designed to give you the most options from the smallest kit size.

It looks very compact, is it big enough for a bulky rod-and-reel set-up?
It's fully adjustable in both length and height. The central supporting bar which is used when in pod mode on impenetrable ground (or when you don't want to force sticks into the turf) uses a fast-lock screw to adjust its length, while the uprights each have super sturdy cam locks with large latches so you could even operate them in gloves in the coldest weather.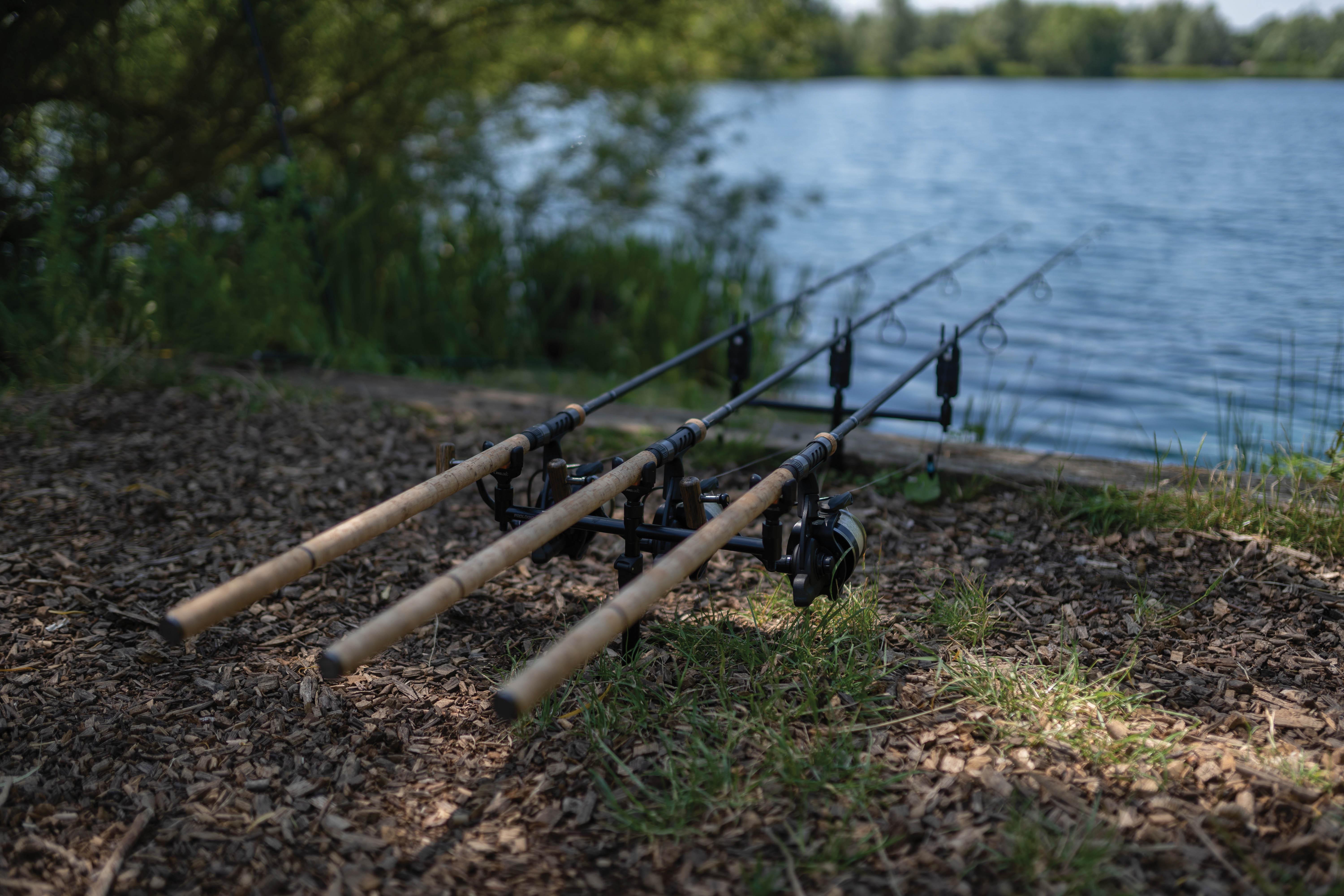 Do you need to buy anything extra?
Nope, this a complete bundle that only needs the addition of your own bite alarms and rear rod rests. And once you've attached those to the uprights you can even leave them on inside the spacious padded case that comes supplied, enabling you to get angling as quickly as possible every session. With recommended retail prices of £89.99 for the two-rod version and just a tenner more for the three-rod option, the K1 Low Profile Rod Pod Systems offer superb value for money and will cover you in just about every angling situation from wooden platforms to grassy banks. £89.99 and £99.99