Prologic's new range of cold-weather clothing will keep you toastie
There was a time when the most fashionable waders and winter suits in carp fishing came from Prologic in that distinctive Realtree reeds pattern. Trends have moved on but so have Prologic, and this new selection for winter 2020 might just become a future classic in its own right.
---
YOUR BIG QUESTIONS
Now that's a good-looking camo…
Isn't it just! Prologic's designers have got the aesthetics just right here. Muted camo colours with blocks of solid greens work really well on both the jacket and the bib and brace.

Tell me about the jacket first…
Designed to retain body heat even in the coldest conditions, this jacket is made from a 100-percent polyester ripstop fabric with reinforcement on the sleeves and a taffeta lining. There's down-like padding throughout, with 350gsm in the body and 280gsm in the sleeves, plus two zipped front pockets with warm linings and a zipped inner pocket. You also get an adjustable hood and four sizes - from medium to XXL - to choose from.
And the bib and brace?
The concept is the same. Retention of body heat is the most efficient way to stay warm, and Prologic are aware that a lot of body heat disappears from the large muscle groups so they've designed this item to counter that problem. It's made from the same material as the jacket, with a 280gsm down-like polyester padding throughout, and the addition of waterproof reinforcements on the knees and back. The braces are elasticated and adjustable and there are two zipped front pockets. You also get a two-way zip at the front for easy access, plus long zippers in the legs for use with large boots and wellies. Like the jacket, it's also available in sizes medium to XXL.
Jacket, £79.99; B&B, £74.99
---
LITEPRO THERMO JACKET AND LITEPRO THERMO BIB AND BRACE
The compromise between warmth and bulk is always a personal choice, but if you're a more active angler or one who's unlikely to venture into the harshest conditions then the Litepro Thermo combo is one to investigate. Available as a bib and brace and separate jacket, these products are warm and durable, but lightweight enough to offer enhanced freedom of movement. Crucially, they're also both waterproof yet highly breathable. The jacket boasts zipped under-arm ventilation and has light but cosy thermo insulation of 150gsm. The bib and brace has taped seams, fleecy pockets and a comfortable elasticated fit.
---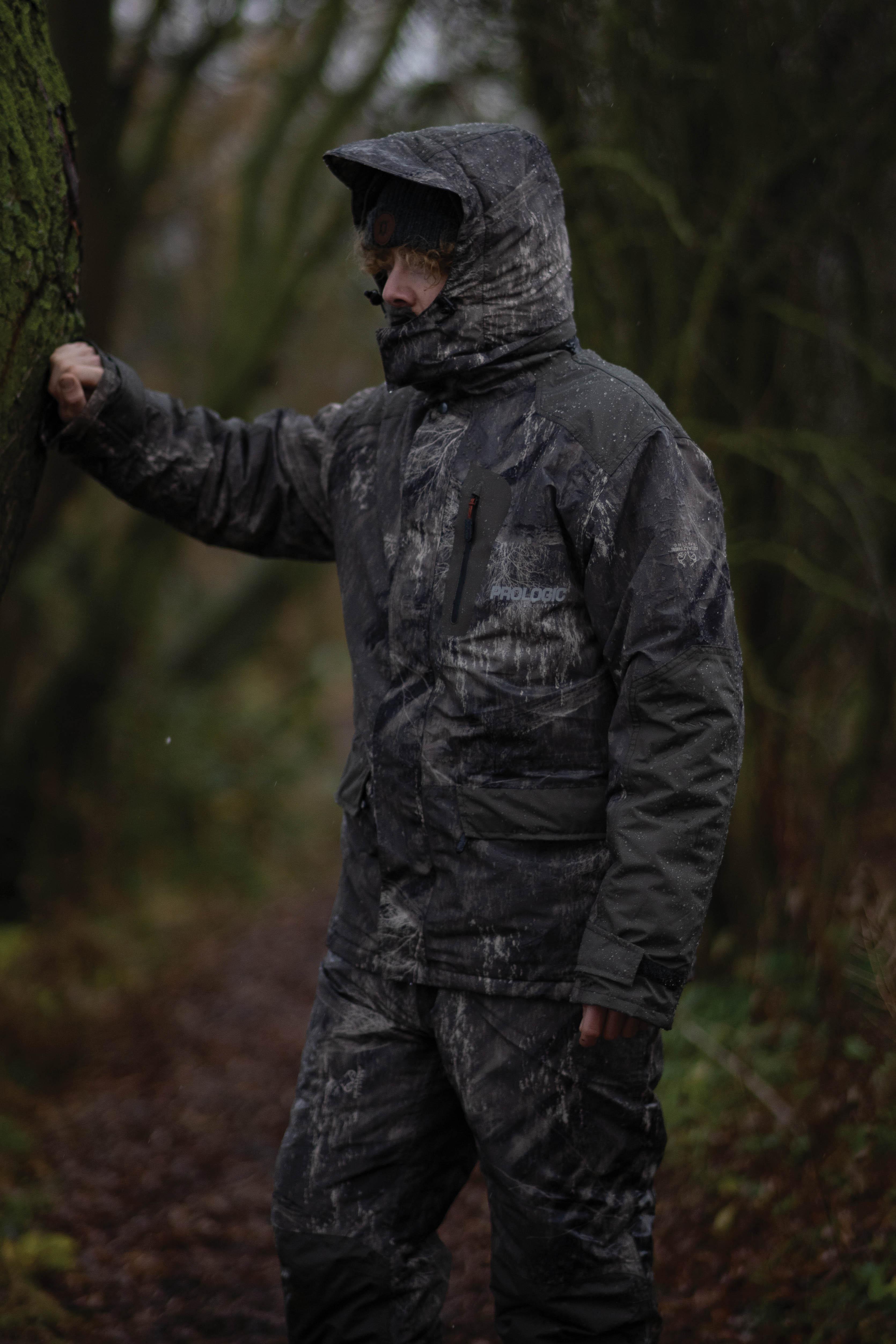 HIGHGRADE REALTREE FISHING THERMO SUIT
There are distinct echoes of those classic camo Prologic waders in the design of this thermo suit, which comprises a jacket and a bib and brace for a combined price. Made from polyester Taslon fabric with Realtree camouflage, there's a soft and warm fleece lining and a breathability rating of 800mvp. The poly-fill padding helps keep wind chill at bay and, when worn together, these two items create a very comfortable suit. The bib and brace has knee reinforcements, a zipped chest pocket and two large zipped front pockets, while the jacket has a detachable and adjustable hood and a high fleece-lined collar to stop draughts.