Raising the Bar
Weston Developments Smart Spools: stunning with a high performance to match.
Whilst it may appear that the 'customising-your-reels' boom is relatively new (i.e. in the last 12 months), Weston Developments - the God fathers of bespoke reel products - have actually been on the scene since 2008, and during that time they've done nothing but strength their reputation for producing high-quality, precision engineered components.
Customising your reels is, quite simply, the ultimate when it comes to stamping your personality. And whilst you maybe thinking right now a complete bespoke set-up would have roughly the same value to that of human organs, you'll now be pleasantly surprised. You see, on top of carbon washers, machined aluminium handles and speed spool caps (more on those next month), Weston produce some of the lushest spools going; in fact, it?s how the company started out. 
They offer two versions - Shallow and Deep for the following reels: Basia and Basiair, SS3000 and 5000T, 6000T and finally SS9000 reels and each one has major benefits over the standard factory spool you get with any of those reels. For example, the Basia is CNC machined from solid aluminium billet and is finished with a black anodize - in other words: it's stronger, lighter and sexier. It comes with a stainless steel, large diameter, line-friendly line stop with an isotope hole, which unlike the plastic ones will not groove or break. 
On the SS3000 and 5000T models, they have an integral machined line guard, eliminating the need for the original rubber 'O' which rapidly deteriorates causing trapped line and you know that really rough sound you get sometimes when reeling? Yeah, you won't get that with these. It also has a mono friendly line stop with isotope hole and is once again CNC machined from solid aluminium billet. And, coupled with the Speed Spool Caps it means you've got one super smooth drag. 
In essence, they're basically the Rolls Royce of spools. They look smart but more importantly, they perform smart.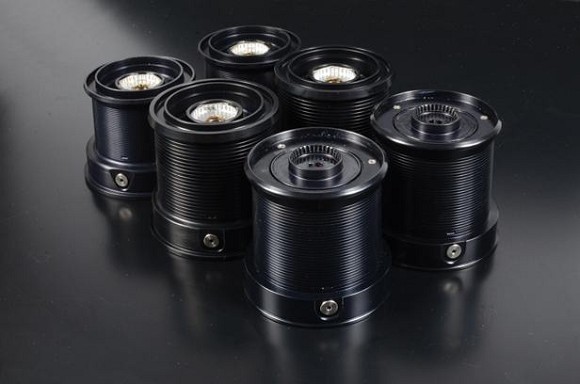 Basia Spools
The Shallow Spool will hold 230m of 0.35mm diameter line, whilst the Deep has a capacity of 460m. CNC Machined from solid aluminium billet; silky smoothness; and integral line guard to replace rubber 'O' ring. "GIMME": Shallow: £69.99; Deep: £79.99
6000T Spools
Shallow spool; line capacity: 1oz, which works out at 230yds of 0.35mm (15lb) line. It comes in a black anodized finish and is Speed Cap compatible. "GIMME": £69.99
SS3000 and 5000T Spools
Integral machined line guard; mono friendly line stop; super smooth drag; and the Shallow Spool takes 230m of 15lb (0.35) mono, whilst the Deep takes 460m (2oz) of the same diameter line. "GIMME": £59.99
This review was taken from Issue 114 (September 2013) of CARPology magazine. Be the first to read CARPology's articles in print before they're posted on-line, and get your hands on loads of additional content by subscribing on-line.