Say hello to the most futuristic rod money can buy
Daiwa's new Basia AGS is the world's lightest carp rod. It's also the most expensive. So can a rod costing upwards of a £800 ever be worth it? (Er, yes)…
At CARPology.net, we're always up for something new but even we're struggling to get our heads around this. The Basia AGS (that stands for Air Guide System) Carp rod is genuinely unlike anything else you've ever seen, held, cast or played a fish on. In English, 'AGS' means carbon guides and that equals serious, serious lightness which takes the performance of the original Basia Carp rod to a stratospheric level. These carbon guides are not only weight-reducing, but they offer up much improved tip recovery on long casts.
The rest of the rod is just as impressive. The blank's even thinner; it's made from a ultra high-grade carbon core so they're stronger than anything you've ever used; and come with Bentley-equivalent bells and whistles – all of which is cut, rolled, baked and then finished by the finest of finest female Scottish hands. So is it time you remortgaged the house and get a set?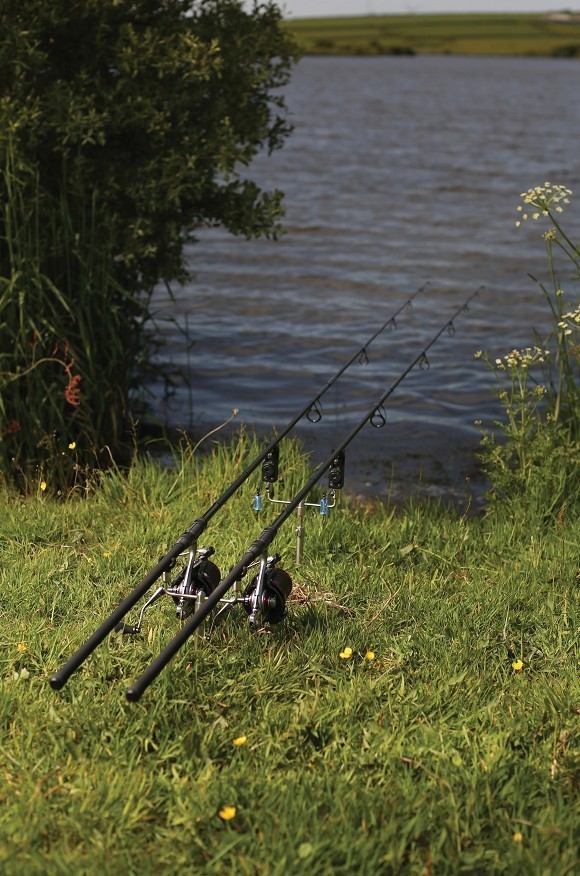 The ultimate pair: a Basia AGS and Basiair Z45QD
Where is it?! I'm holding it but I can't feel anything!
Very funny. But yes, the Basia AGS Carp is disarmingly light. Just like they did with the SS3000, Basia, Basiair and the super high resin carbons for ultimate performance in rod design, Daiwa looked to their Japanese partners for this new tech. In their never ending quest for ultimate lightness, this, another world first for Daiwa, not only results in that dramatic weight loss which you've just witnessed for yourself, but it allows for greater casting distance, with improved accuracy. Plus, the toughness and rigidity of the carbon frame allows for a much higher sensitivity – and that in our language means you're going to feel more on the 'drop'.
But the rod feels insanely light!
It sure does. Plus, when coupled with the Basiair Z45QD, as we have here, it feels more like a mini fixed spool reel and feeder rod! But to put that 'feeling' into figures, a complete set of carbon guides is around 40% lighter than conventional frames. Or, to put that another way, all six AGS guides which are used on the Basia AGS Carp total just 13.17-grams – that's lighter than one Fuji 50mm guide! And because of this lightness, it means you can pull the rod faster through the air on the cast, helping to achieve more distance. And that's fact, not some shitty sales talk. You will, 100%, cast further with this rod.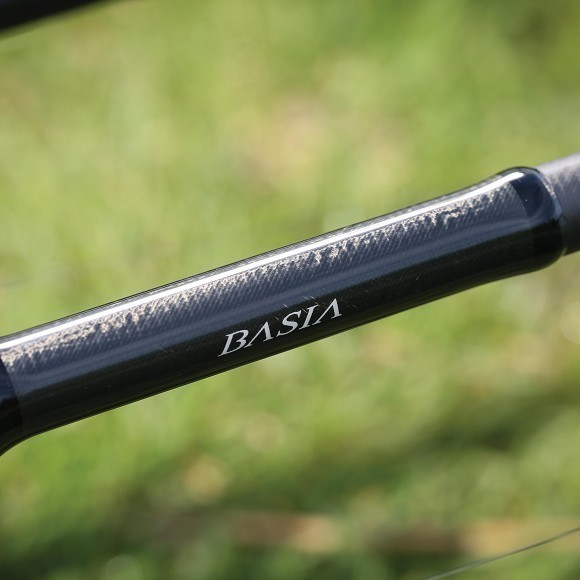 A name of excellence
That's ridiculous! What about the blank, is that all new?
Not quite. Its legacy actually dates back over a decade, to the company's legendary Magnum Taper profile. The balance, tip speed and versatility, even in high test curves, have remained unsurpassed. Until now that is…
Why, what have they done?
By combining a core of ultra high modulus low resin fibre, armoured in X45 with outer layers of Bias carbon, the rod geeks at Daiwa have been able to reduce the diameter of the MT profile. Importantly, this harmony of materials harnesses more potential energy that, when released, applies more power to the cast. The added benefit of the Bias is a higher torque resistance contributing to better straight-line accuracy and a crisper recovery.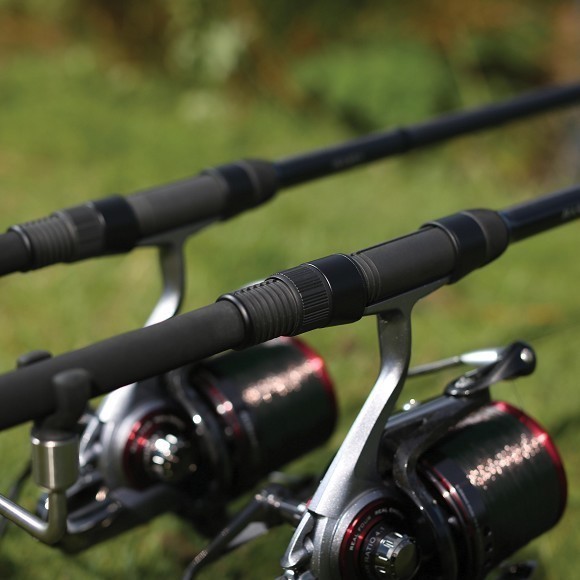 Fuji DPS reel seat, profiled, NS shrink tube handle and black metal butt cap
So it obviously casts better, but what about the playing action?
You know that bit in a fight, when the fish is under the rod tip and you're resting the rod butt in your groin because your arm's starting to ache? Yeah, you don't get that one single bit with these. Honestly, holding the Basia AGS is like holding a lightweight jigging rod. In terms of performance, it's stunning. It's soft and forgiving but powerful and insanely responsive all at the same time.
How much luxury is on the blank?
Off the scale. CARPology has tried a lot of posh rods but none take your breath away quite the way this combo, the Basia AGS and the Basiair Z45QD, did. Every single part of this rod is hand built. From the silk matt low glare finish and Fuji DPS reel seat to the profiled, NS shrink tube handle and black metal butt cap.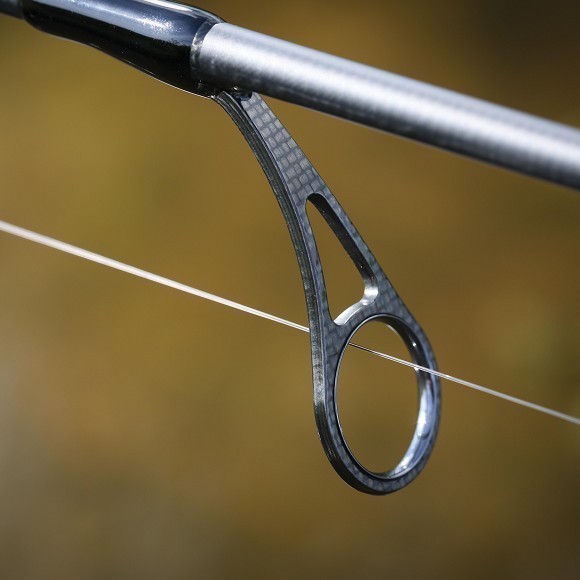 All six AGS guides which are used on the Basia AGS Carp total just 13.17-grams – that's lighter than one Fuji 50mm guide!
Is there the usual baffling array of test curves?
No. There's two lengths: 12ft, which comes in three test curves of 3, 3.25 and 3.75lb and a 13ft model in just 3.75lb. Fancy one? £750, ta.
"GIMME": From £680.00 to £750.00; daiwasports.co.uk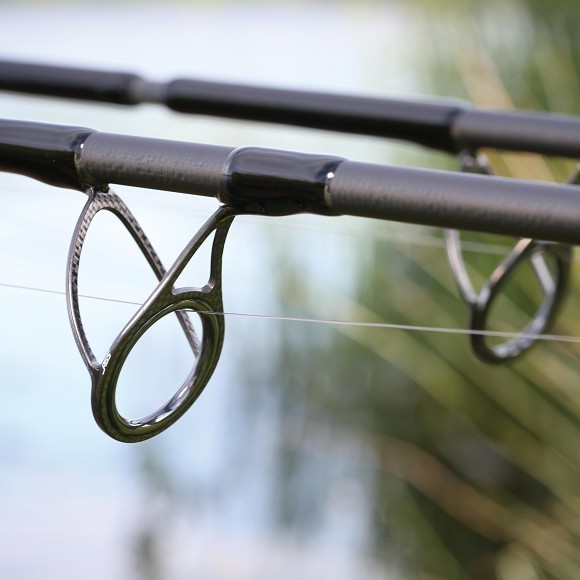 The AGS carbon guides not only lightEN the rod up hugely, but they offer up much improved tip recovery on long casts