SONIK Gizmo Bite Alarms
Sonik's alarms keep getting better and better - both from a technical and financial point of view…
If ever there was a tackle company heading in the right direction it's Sonik. The British firm have been going from strength to strength in recent years and each new year brings a flurry of cracking ideas and useful products. From beds and chairs, to rods and reels, via a big selection of bivvies and brollies - not forgetting a comprehensive luggage range - Sonik have found their niche making quality kit to suit all budgets. A particularly strong suit of theirs has been bite alarms, with both the SKS and the later SKX bundle kits delivering stacks of features and great value for money. This latest release, which continues the theme of offering alarms as multi-rod packages with a receiver included, has quite a lot to live up to! We're pleased to report that early impressions look pretty darn good…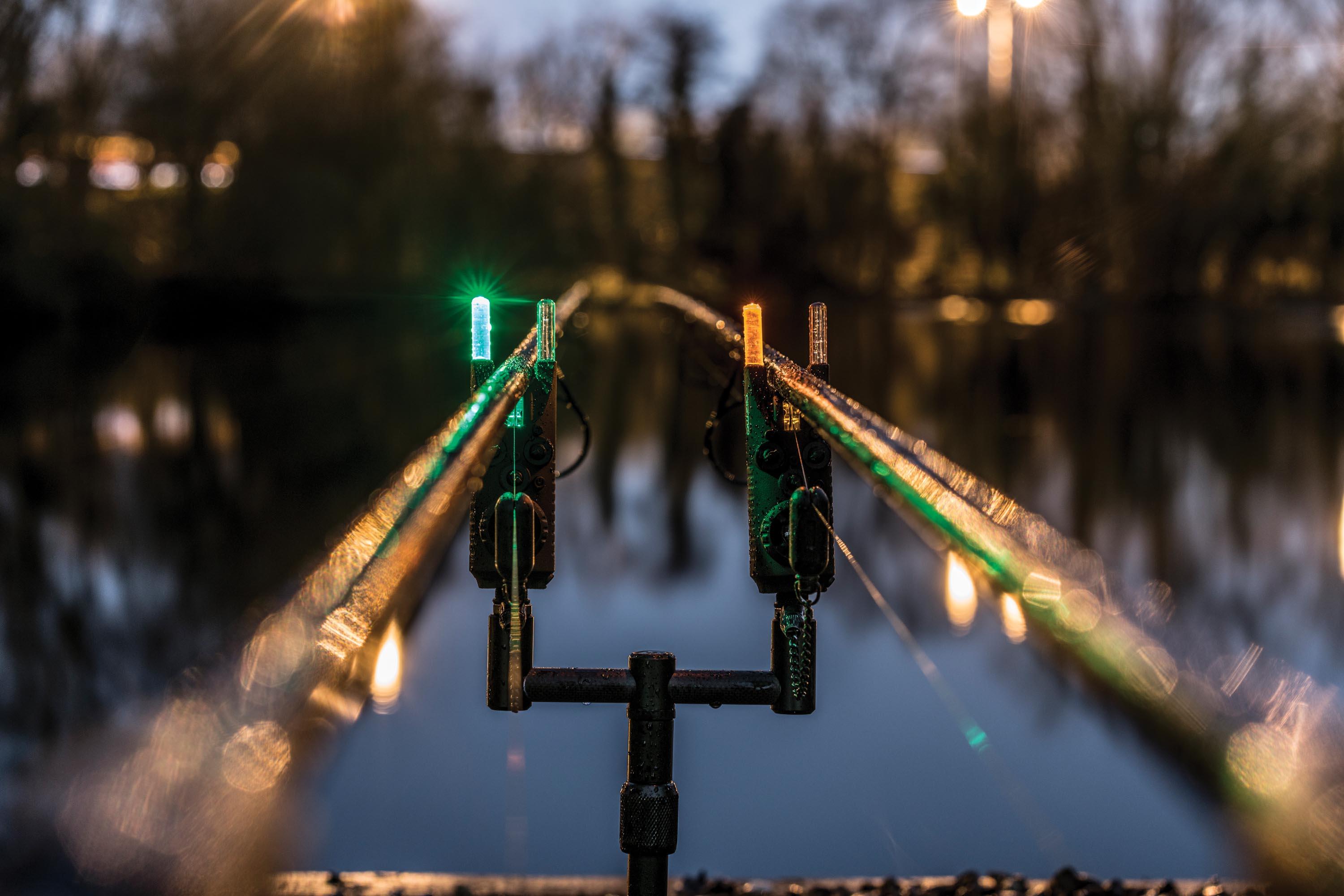 The Big Questions
What do these offer over previous models?
Much like the very popular SKS and SKX bundles, the new Gizmo alarms are available in two-, three- and four-rod packages, with a receiver included. You can also purchase a single alarm separately to top up your collection when needed. And, just like with previous Sonik alarms, you also get a bivvy light that can be synchronised with the alarms.
I like the sound of that bivvy light! What features do you get?
The first thing you will probably notice are the clear snag ears. The left-hand one illuminates when you get a run, while the right one indicates a drop-back bite. The roller wheels on these alarms also illuminate when you get a beep. The new synced bivvy light also has a speaker added (which can be muted).
What else do they offer?
A nifty feature that was rolled out on the SKX alarms is Sonik's Intelligent Mute Mode, and it is also present on these units. To avoid annoying neighbouring anglers, simply press the on-off button once after you have cast out and you will get 30 seconds in which to position and adjust your bobbins in silence. The illuminated snag ears will flash while this takes place before the alarm automatically switches back to an audible mode.
What's in the box?
If you buy a presentation box you get clip-on hard covers for each alarm, which protects the front of the alarm and its three clickable dials adjusting volume, tone and sensitivity. The compact receiver can be paired to four alarms and can function in audible or vibrate mode. It also has a useful torch at one end. The alarms, the receiver (which as a range of up to 150m) and the bivvy light are all powered by AAA batteries and have an extended battery life.
The last big question then… How do they compare to other alarms on the market?
As you can tell already, the Gizmos are full of all the standard features associated with modern alarms - plus a couple of Sonik signatures like the synced-up bivvy light and illuminated snag ears. However, the size of these new alarms might come as a surprise. There are much more compact, and arguably better looking, than previous Sonik alarms and those of many competitors. The price points are classic Sonik: very competitive! A single head retails for £49.99; 2+1 Alarms + Bivvy Lamp is £199.99; 3+1 Alarms + Bivvy Lamp is £249.99; and 4+1 Alarms + Bivvy Lamp is £299.99.
The Unique Features
ALARM
1. Twin illuminated snag ears and line roller
2. Silent start-up
3. Forward and backward drop back indication
4. Night glow LED function
5. Silent Low Battery Warning
6. Sealed electronics
7. Requires just two AAA batteries
RECEIVER
1. Dedicated LED for drop back indication
2. 3-Modes: (Light + Sound); (Light + Vibro); (Light + Sound + Vibro)
3. Auto Alarm Head Tone Matching
4. Anti-Theft Alarm
5. Built-in Touch Function
6. Silent Low Battery Warning
7. Requires just two AAA batteries
BIVVY LIGHT
1. Manual on/off mode or automatic when alarm's triggered
2. 7 volume levels, including silent
3. Supplied with magnetic or bivvy hook attachment
4. Brightness adjustment (6 levels)
5. Delay adjustments (6 levels)
6. Silent Low Battery Warning
7. 6 colour channels available