The Titan's gone topless!
Reflecting almost 20 years of Titan production, the Nash Titan Globetrotter is the world's first topless bivvy
The word heritage gets banded around in the bivvy world far too much, but where Nash, Essex-based company is concerned, there's no more appropriate term. In its time, the fast-approaching-forty-year-old company has made some truly iconic bankside shelters, from the Oval Umbrella to the Groundhog and of course to the 1.5 million units sold worldwide Titan. And it's this rich and very successful history of the Titan family that the brand has drawn upon for its latest addition to the all-conquering Titan collection: The Titan Globetrotter.
But before we take a closer look at this new sibling, let's just recap on how Nash got here and how all of this heritage has been reflected in this new home.
Early 90's: the Titan is launched and features a plain 'solid waterproof infill front'. Mid 90's and the All Season Titan is born, as is the Titan 2 Man. 1998 and all models are dropped and the Titan Viper is created. 2000 saw the Hi-Top, which, as the name suggests, had a higher top, giving extended headroom. Everything then went dormant (read: the Titan ceased production) for ten years before they in-instated it with new tougher materials and fabrics. 2011 saw the Titan Brolly go live which was shortly followed by the Titan Brolly AS and now, in 2014, they masters of fabric have combined all of this knowledge – almost 20 years worth – to create the world's first completely open bivvy.
The basis of Titan Globetrotter is a completed sealed capsule inner mesh shelter with a sewn-in groundsheet to allow for cool airflow in hot, sticky climates and summer conditions. It also keeps biting insects, rodents and snakes at bay to guarantee comfort in any environment around the world. It is of course twinned with an extreme weather overwrap so it boosts warmth and provides extreme waterproof twin skin performance, plus also eliminates condensation drip.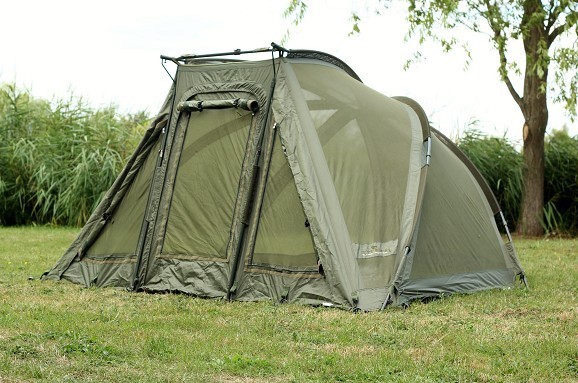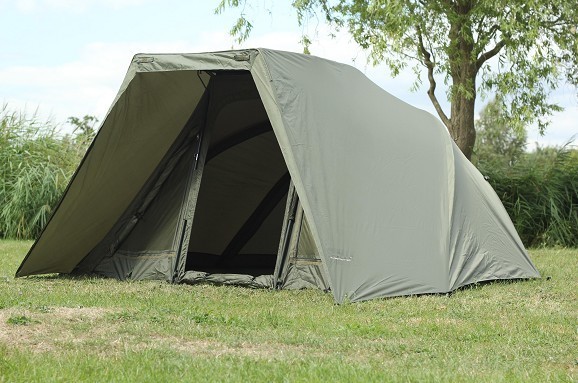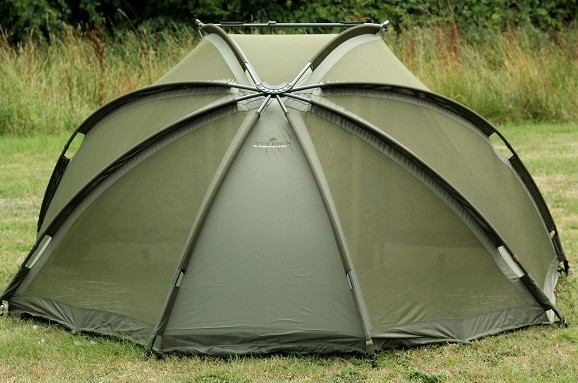 Keeping with tradition, Nash have made the Globetrotter available in both One and Two Man variants, with the smaller version being versatile enough for short sessions and offers the perfect solution to spring and summer nights under the stars with total protection from mosquitoes, whilst the larger Two Man Titan version is an unbeatable long session choice, comfortably accommodating two bedchairs.
£439.99 and £519.99 is a lot of money in anyone's language for a bivvy, but let's look at what you're getting. It's based around the legendary Titan Brolly frame so it's unbeatable for strength and stability. It comes with an extended porch to prevent rain ingress through an open door. The extreme overwrap which is supplied is made from the armoured nylon which is wrapped around the 2010 Titan. And it comes with tie-back front infill panels, twin storm rods and sawn neck adaptors, letterbox style clear panel door, reinforced elasticated pegging points, twin Velcro rod supports for re-baiting and zipped tie-back rear ventilation panel for cooling airflow.
In short, The Titan Globetrotter represents not just nostalgia but all of that Titan history is woven into the very fabric which previously just kept millions of anglers dry and comfortable but now it's going to keep you super cool too when it's really hot and muggy out there.
"Gimme": 1 Man, £439.99; 2 Man, £519.99; Heavy-Duty Groundsheets, £59.99 and £74.99