Advanta Endurance Duo-Skin Bivvy
Advanta have bundled a roomy bivvy with an overwrap as a complete package
Angling Direct's Advanta brand is now eight-years-old and firmly established as one of the best value-for-money marques in the game. You know that an Advanta item is going to come packed with features for an attractive price, and that's exactly what you get here with the Endurance Duo-Skin Bivvy. Providing you with a roomy one-man bivvy and an overwrap (that makes it big enough for two bedchairs) for under £300, it's definitely worth checking out these five reasons why you should consider this shelter…
£299.99; anglingdirect.co.uk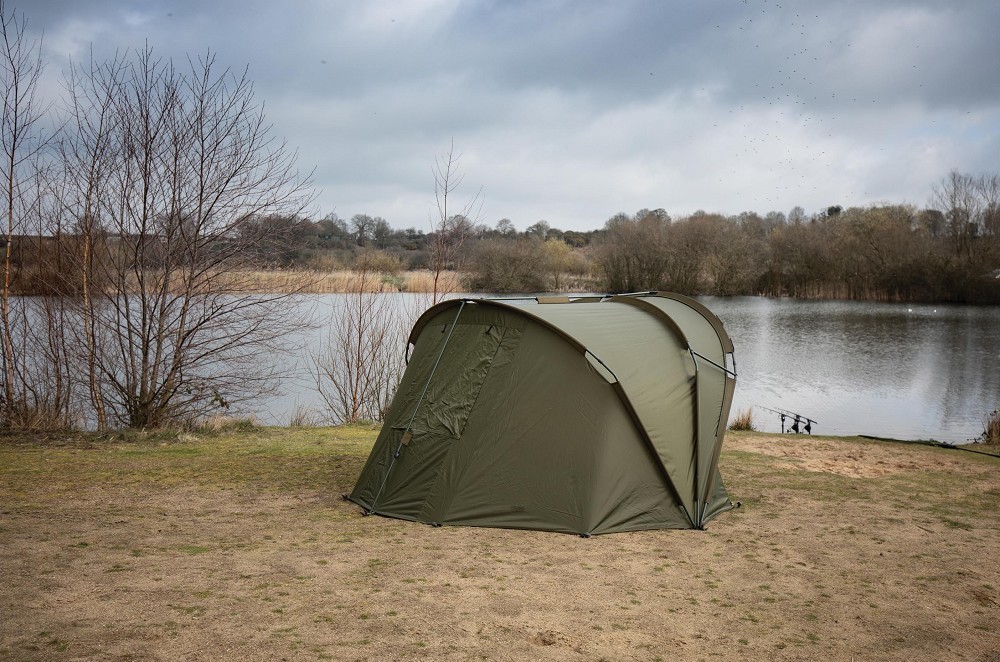 Is this the best value-for-money bivvy and wrap package currently on the market? Yes!
The Big Five
1 Combined goodness
Overwraps are great, until you realise they are normally a fairly pricy add on and you end up putting your wallet away and thinking of something better to spend the money on. Here, the overwrap is part of the bundle, giving you plenty of flexibility straight out of the box. As a standalone shelter, this is a big one-manner, but if you add the overwrap you get enough additional space to fit two bedchairs. Great for occasional guests.
2 Spacious design
The bivvy itself has that familiar pram-hood styling, with all the modern features you would expect from a much more expensive product. The ribs have been cleverly designed to provide flatter sides and a flatter back to maximise internal space. Not including the peak, the Endurance Duo-Skin is 140cm high, 270cm wide and 250cm deep (extending to 284cm deep with the overwrap).
3 Quality materials
The main structure of the bivvy is a three-pole frame made from rigid 16mm 6061 aluminium. Each pole has three joints, so set-up time is kept speedy and simple. The outer material is a 210D polyester with taped seams and a hydrostatic head rating of 10,000mm, making it very waterproof indeed.
4 Plenty of features
This is Advanta after all, so you know they deliver on the features front. There are a total of four Velcro rod-retaining straps and these are also in place on the overwrap. There are also vents on the back of both the bivvy and overwrap, two height settings on the front panels and reinforced pegging points. The front panel of the bivvy can be rolled back for improved visibility and airflow, while the high-grade groundsheet neatly clips in place, and you get an oversized zip-top carry bag for the whole bundle.
5 Overwrap goodies
The overwrap itself is well thought out so it isn't a pain in the rear to get in position. It only requires pegging at the front. At the side and back of the bivvy the overwrap simply clips in place. It also has a two-way letterbox-style door system for keeping watch in even the grimmest weather. The overwrap weighs in at 3.6kg, with the bivvy 11.3kg, making the whole package 14.9kg.
So, to conclude, is this the most incredible value-for-money bivvy and wrap package currently on the market? We think all the evidence is suggesting yes!