Advanta Protector MZ Bivvy
Angling Direct's Protector MZ bivvy offers incredible value for money
Now boasting an empire of 28 shops around the country, Angling Direct has grown into a formidable force in the fishing world. But the Norwich-based business don't just sell other companies' kit - since 2011 they have also distributed their own brand of carp gear in the shape of the Advanta range. Based on an ethos of delivering quality kit at affordable prices, the Advanta marque now spans a wide selection of tackle and accessories. Using Angling Direct's massive buying power, the company can design and source kit that stands up to carp anglers' demands, both in terms of durability and cost. This excellent sub-£100 bivvy is just one such example…
The front panel can be rolled right back so you get a great view of the lake
The Big Questions
What have we got here then?
This is a classic pramhood-design bivvy, with plenty of internal space despite a relatively small footprint.
Is it cheap and nasty?
Absolutely not. It's pretty incredible what Angling Direct have managed to produce for just £89.99. The bivvy is made from hard-wearing 150D polyester with a 5,000mm hydrostatic head and taped seams for complete waterproofing. The frame is also sturdy and lightweight, constructed from 16mm aluminium poles arranged in a two-rib, three-breakpoint design. Incredibly, the whole package weighs just 6.7kg.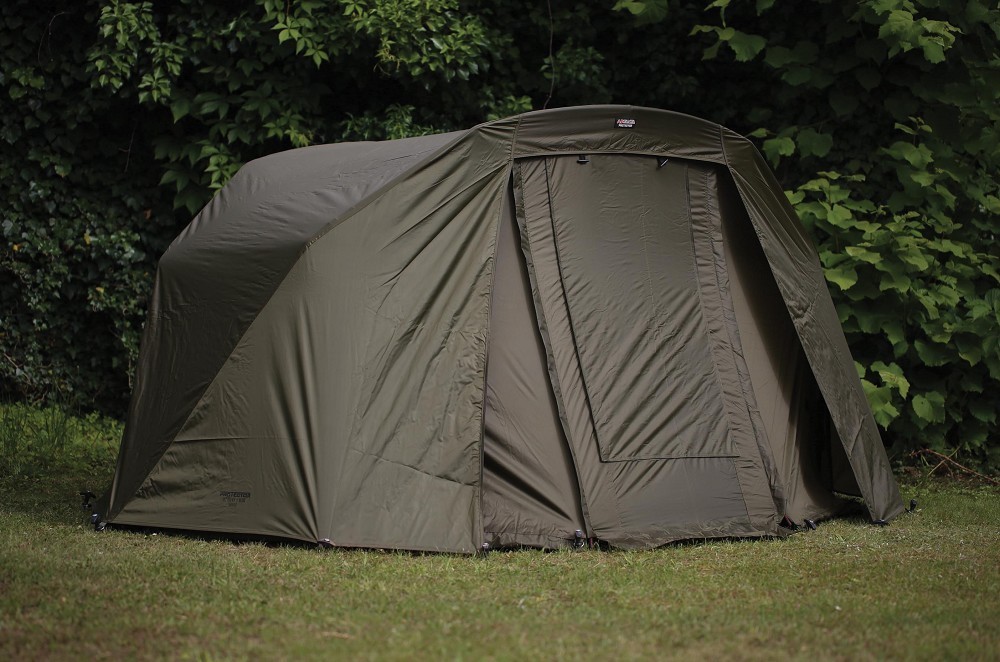 An overwrap is available for just - get this - £39.99!
Sounds promising…
It is. The Advanta Protector MZ might not be a luxury palace of a bivvy, but it goes up quickly, weighs very little and will protect you from the elements. It's ideal for overnight sessions or for those on a budget.
Any other features?
Plenty! It's got rollback front panels, which stow away with a simple toggle system allowing you to effectively fish it as an open-fronted shelter; plus two front-door options: solid green or mozi mesh. Inline tension poles keep everything braced and rock solid and there are also reinforced pegging points, a lightweight Velcro-in groundsheet, proper heavy-duty T pegs and, thankfully, an oversized carry bag so you won't struggle to get everything packed away at the end of your session.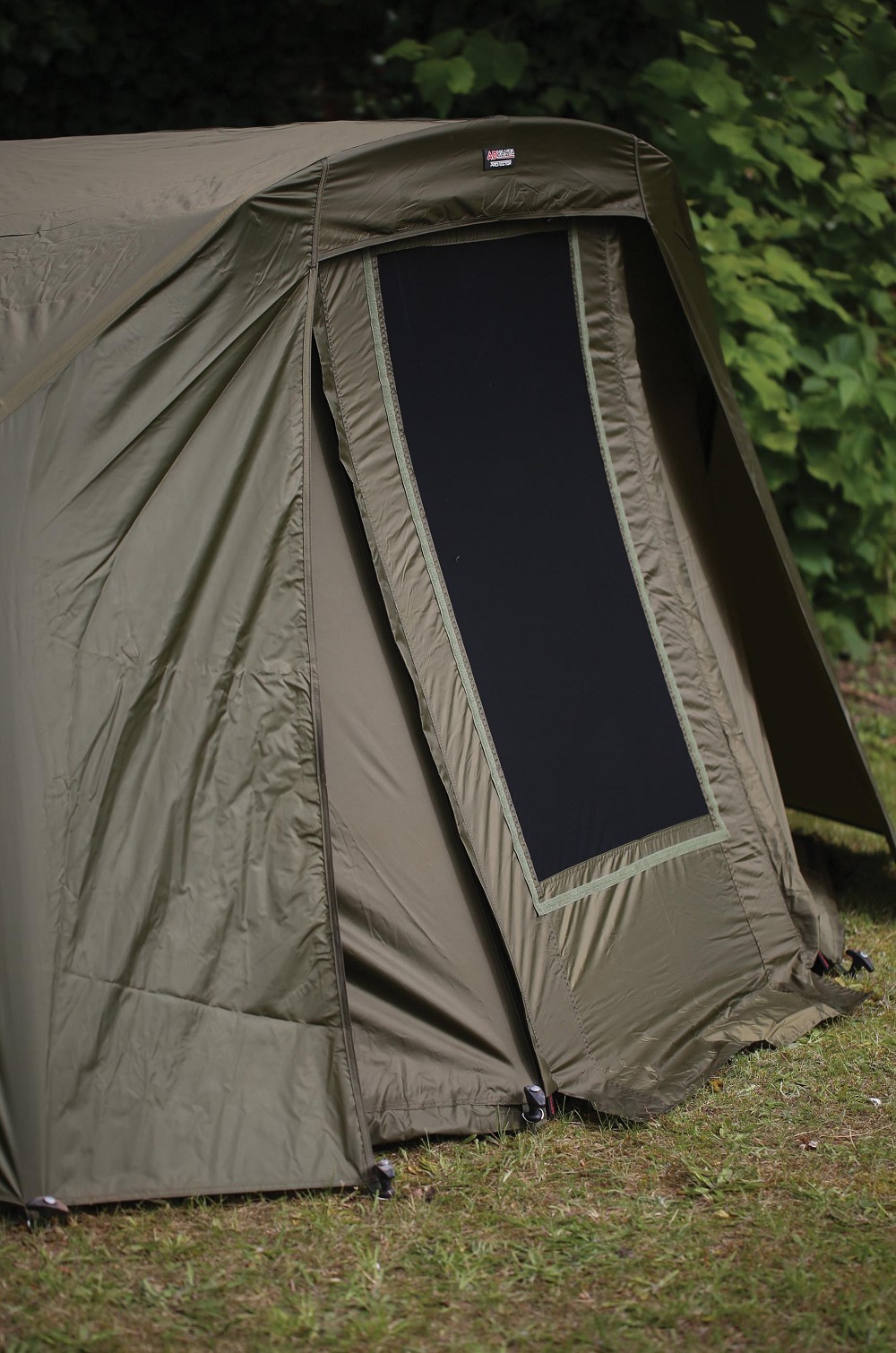 Mozzi mesh front door as standard
How big is it?
This is where it gets deceptive! Despite the small package and modest footprint, the Protector MZ has a large internal space thanks to its flat-sided design. It comes in at 135cm high, 270cm wide and 230cm deep, meaning you can comfortably shove your bedchair in at the back and have plenty of space around you for your luggage and other bits of kit.
I like the sound of the Protector, but what if I want more, erm, protection?
Angling Direct have thought of that. There's also an optional Protector MZ One Man Bivvy Wrap (which retails for just £39.99!). The extra layer of fabric creates a barrier to condensation and the overhang of the wrap increases the depth of the floorspace by an extra 25cm. The wrap is made from exactly the same 150D polyester material as the main bivvy, for a tough, hard-wearing feel. It also boasts the same 5,000mm hydrostatic head and has reinforced pegging points so you can confidently get it taut over your bivvy without fear of something ripping or giving way. It is supplied with heavy-duty T pegs for the front of the wrap, while the back and sides utilise the existing bivvy pegs and pegging points to save weight and bulk. In all, the overwrap kit weighs in at just 2.5kg, bringing the weight of the complete bivvy and wrap bundle to just 9.2kg.
Sound like a lot of bang for your buck?
Angling Direct have been making these wallet-friendly Advanta products for eight years now, and they've got the formula down to a fine art. The Protector MZ bivvy and overwrap are great examples of quality kit at affordable prices. The bivvy itself is under £90, while the additional overwrap is only another £39.99. Paired together, this is a pretty unbeatable combo for the money.