Advanta Protector Peak Bivvy
Advanta's latest bivvy and overwrap offer all-round protection (even on your wallet!)
Angling Direct's own Advanta brand has been around since 2011 and is built on an ethos of quality products at low prices. The one-man Protector Peak V2 bivvy follows this path and replaces the popular Protector Extreme shelters. Offered with the option of purchasing an additional overwrap, the Protector Peak is a versatile bivvy that's also available in a two-man version.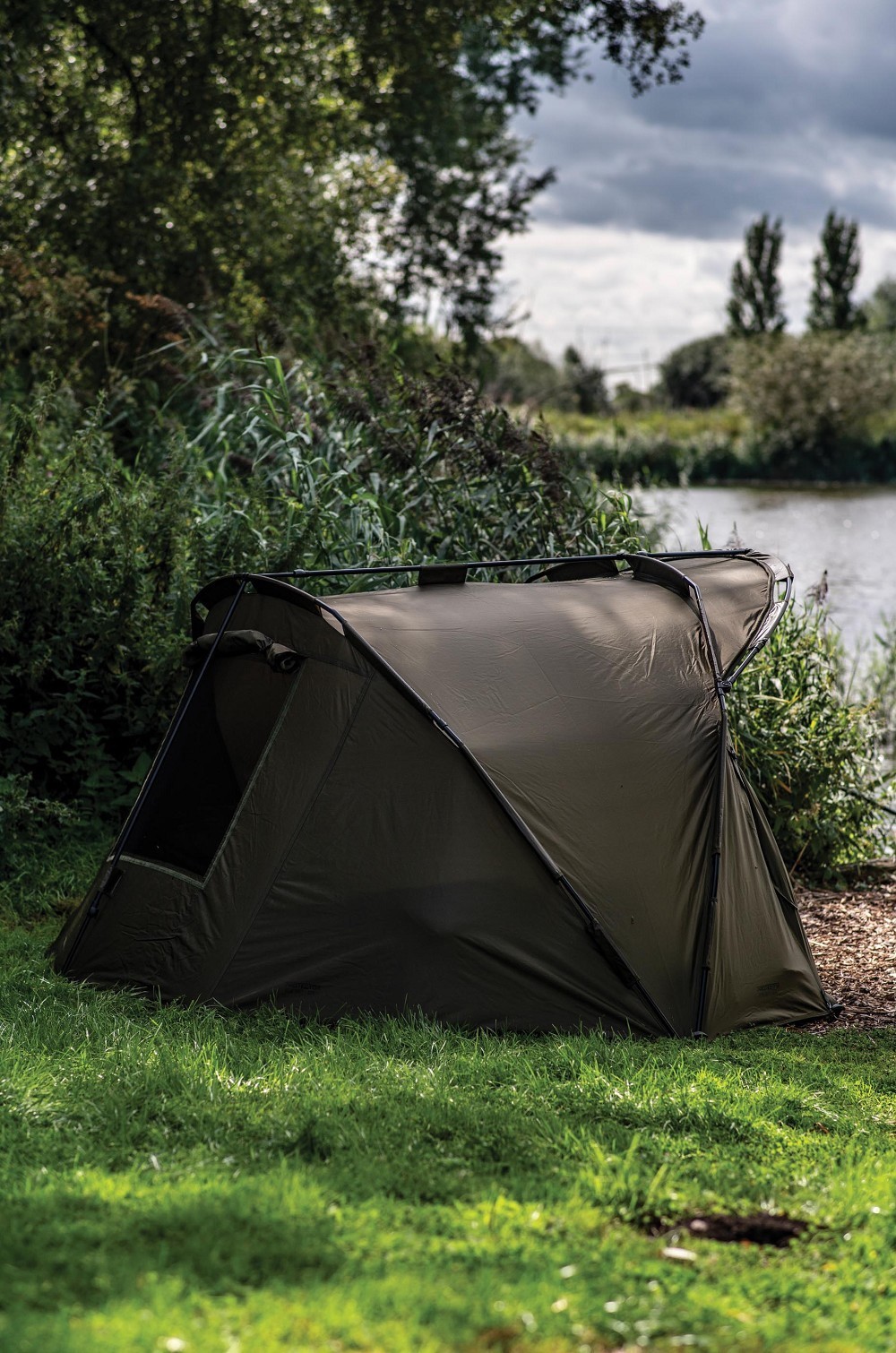 Spacious, well-made, plenty of ventilation, and very well priced… what's not to like?!
The Big Questions
This looks like a classic pramhood bivvy to me…
That's exactly what it is. Advanta have taken a design that has stood the test of time and added their own touches to it. The main thing you'll notice is the extra-large peak that covers the front. As the name suggests, it really does offer a great deal of protection from driving rain and scything winds, and rain water is funnelled away from your sitting area along a built-in gutter.
Is it easy to put up?
You bet. There are two just two ribs with three joints, so it goes up very easily. The supplied groundsheet also Velcros in place quickly thanks to simple locating tabs. Despite its low cost, the Protector Peak V2 is a lightweight shelter all round, so you won't be too knackered to erect it once you've brought it to your swim. The 16mm 6061 aluminium poles help keep the total weight of the bivvy down to just 8.1kg.
How about packing it away?
There's nothing worse than wrestling with a tiny bivvy bag, but fortunately Advanta supply this bivvy with an oversized zip-top carry case that makes dismantling your gear at the end of a session just a little bit more bearable. You also get proper heavy-duty T pegs so the bivvy won't be going anywhere once it's put up.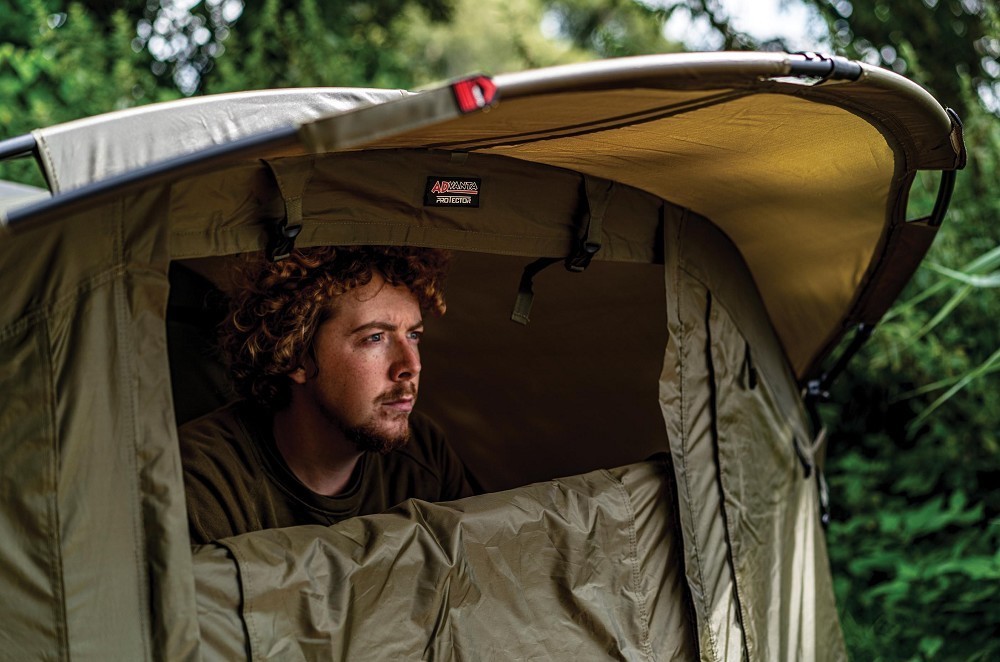 There are multiple door options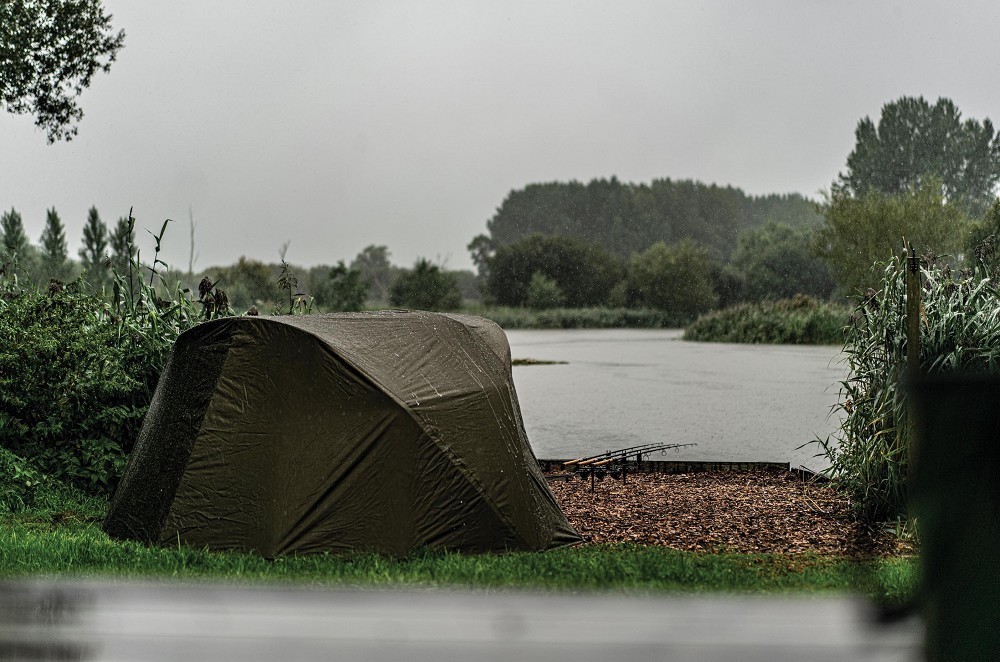 The overwrap adds space and protection
How big is the bivvy?
This is a one-many bivvy, but it's generously proportioned and the versatile front panel means you can completely roll back the doors for an airy, open shelter. It's 1.35m tall, 2.7m wide and 2.3m deep, not including the peak. With the purchase of the Protector Peak V2 overwrap you get an additional 40cm of porch space, as well as all the other benefits of a second skin, such as reduced condensation and better insulation.
Tell me more about the overwrap…
Just like the bivvy itself, it's made from 210D polyester with a 5,000mm hydrostatic head and taped seams. Covering the bivvy's large peak, it significantly extends the usable room of the shelter and provides extra protection from the elements. It's only £79.99 and comes with pegs and a carry bag.
Anything else I should know about the bivvy?
There are plenty of features to be found on the Protector Peak V2. There are Velcro rod-retaining straps on the peak, plus reinforced pegging points with two height settings on the front panels. Those front panels can be configured a number of different ways, with the door itself coming in solid, mozzie mesh or see-through options. The door can be opened letterbox style for fish spotting in poor weather, while the panels either side can be partially rolled back to reveal mozzie mesh for extra light, or tucked away completely for an open-fronted design. At the back of the bivvy there is a large mozzie-mesh vent for air circulation.
One-Man £159.99 Two-Man £179.99