2 New Reels From Kodex
Kodex will soon launch two new high quality reels. Here's why you should consider them…
Kodex Intelligent Tackle was born in 2014, with one aim – to offer improved and high quality tackle for carp anglers at affordable prices. They think thoroughly about every possible minutia before releasing new products in to the market, that's why it's called "intelligent" tackle. We have seen some extremely impressive creations from Kodex in the last seven years, such as their flagship KX-i rods, the CX-i alarms, and the outstanding K-Pulse main line that genuinely helps you to cast further, to name just a few. Now, for the first time, Kodex are about to release two reels into the market and they look every bit as good as we've come to expect from the brand.
Kelositi XK8000
The new Kelositi XK8000 freespool carp reel offers exceptional quality at a price affordable to all, pitched at just £79.99 RRP and realistically more like £65 or even less, when you shop around. It has an aluminium main spool in a Cast-Assist design, with a large capacity yet a compact shape and a lovely balance. Features include a One-Touch free-runner switch facility, anodised line-protect bail arm, CNC handle with large soft-touch rubber grip knob, stainless safe-plus line clip, compact lightweight graphite body and it's supplied with a spare graphite spool. 5+1 ball bearings and a 5.2:1 gear ratio.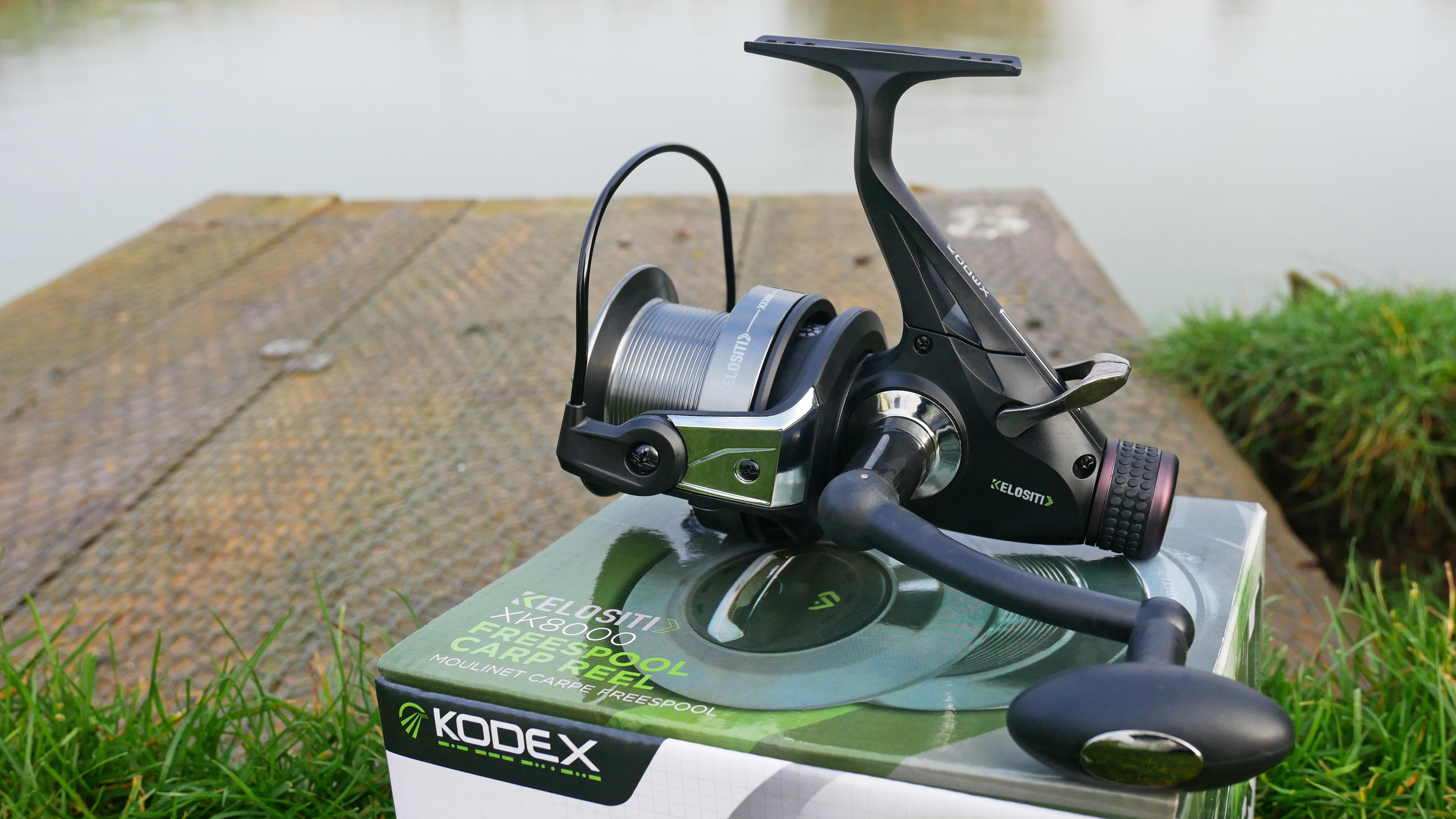 Pulse-Runner XS5000
The other new reel is a little smaller and has been created for your more specialist type angler, namely the Pulse-Runner XS5000, which is also a freespool design. It has many of the same features as the Kelositi, along with a True-Balance action. Priced at £59.99 RRP, you may find it for about £40 if you shop around – either way, you'll be getting a real bargain. (A reel bargain. Ha.)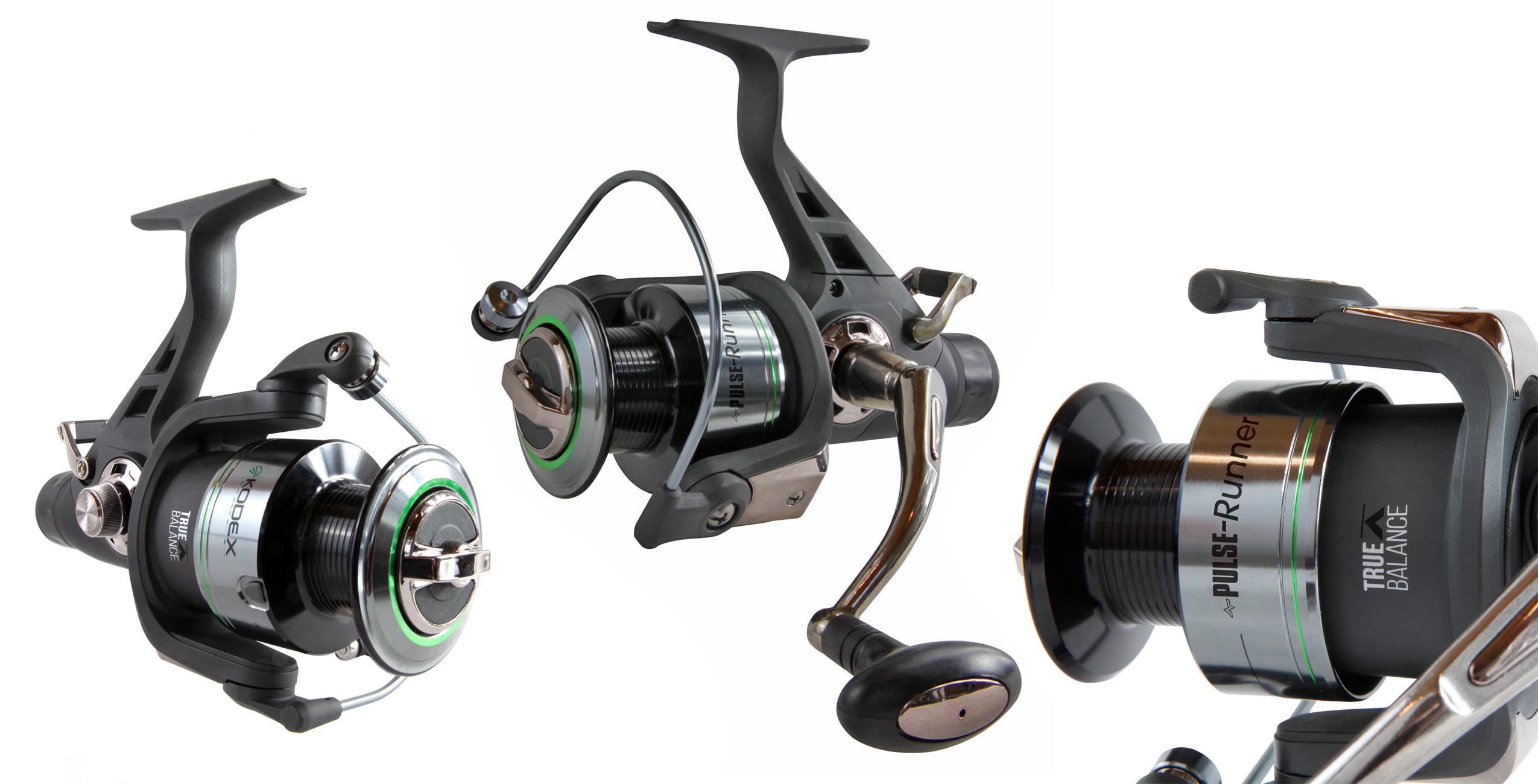 But why would I choose Kodex reels over, say, a Shimano?
We spoke to Matt Middleton, head of the Kodex brand, who openly admitted that Shimano are "top dog when it comes to reels. Nevertheless, the new Kelositi and Pulse-Runner are extremely high quality and offer a good saving on the price of a Shimano or Daiwa equivalent – especially if you're buying for a three rod setup." Therefore, anglers looking for a cheaper alternative, while retaining high quality, need look no further than these Kodex reels.
But I don't know if they'll be any good. Is it worth the gamble?
You can be assured of excellence when it comes to Kodex. Their attention to detail and quality checking are second to none, and they would never put their brand name on to a poor quality reel. We know you'll be impressed if you invest in either the Kelositi or Pulse-Runner. For the full video review of these reels please scroll down to the bottom of this article.
When will they be available and where can I order?
The Kelositi carp reel is available to buy now. The Pulse-Runner will then appear from May (subject to no delays at the docks). You can place an order for the Kelositi by visiting Total Fishing Tackle's website. Any Kodex stockist can order either of these reels for you, just ask for their best price.
EXCLUSIVE: Kodex tell CARPology about their other upcoming launches…
Kodex have also revealed plans for many more innovative products in 2021. Their unique Cleverhead™ bobbins are expected at some point after more than 18 months of development, while their upcoming Zig Beasts™ bits and ready rigs will make setting up a zig rig a complete doddle. CARPology also heard exclusively of plans to launch of a new range of retractable rods in the early months of 2021, called the Kompressive™ range, which will be in 6ft, 9ft and 10ft lengths and feature a telescopic-collapse design for ease of transportation. A new non-wireless bite alarm will also come out, priced around £35 RRP (and much less if you shop around), with features you'd never expect for such a low price, like a built-in night light and adjustable LED colours at the touch of a button.
If you're just as excited by all of this as we are, go check out the Kodex website at www.kodextackle.com – there you will find more pictures and information on some of these upcoming products, and you can also enter your postcode to find your nearest Kodex stockist, where you could consider asking them to pre-order for you.
---