Day ticket 39lb for Ryan Gibson
Caught just metres from the bank
Ryan Gibson caught this 39lb 8oz common within minutes of arriving at his chosen day ticket water.
Having turned up at the lake just before 5pm, Ryan stumbled across some fish gathered up in and around some pads.
"After fetching my gear, I made my way back into the swim, fully laden with rucksack, rod holdall and bedchair and noticed a rather sizeable fish no more than two to three feet from the bank," explained Ryan.
"Sure enough and to my amazement, it was one of the big two mirrors that reside in the lake."
After grabbing a rod out of his holdall Ryan tied a size 6 hooks directly to his line and side hooked a small CC Moore Live System chop.
"I crept up as slowly as I possibly could behind a nearby reedbed and lowered the freelined hookbait straight off of my rod tip."
"The reaction was almost instant and no sooner had the bait hit the bottom, she turned and engulfed my offering." Ryan added.
A short fight followed and the 39lb 8oz common known as Floppy Tail was then safely in the net.
"I don't think I've ever caught a carp so quickly in my life and I very much doubt that I will ever again, especially one of this size!," Ryan concluded.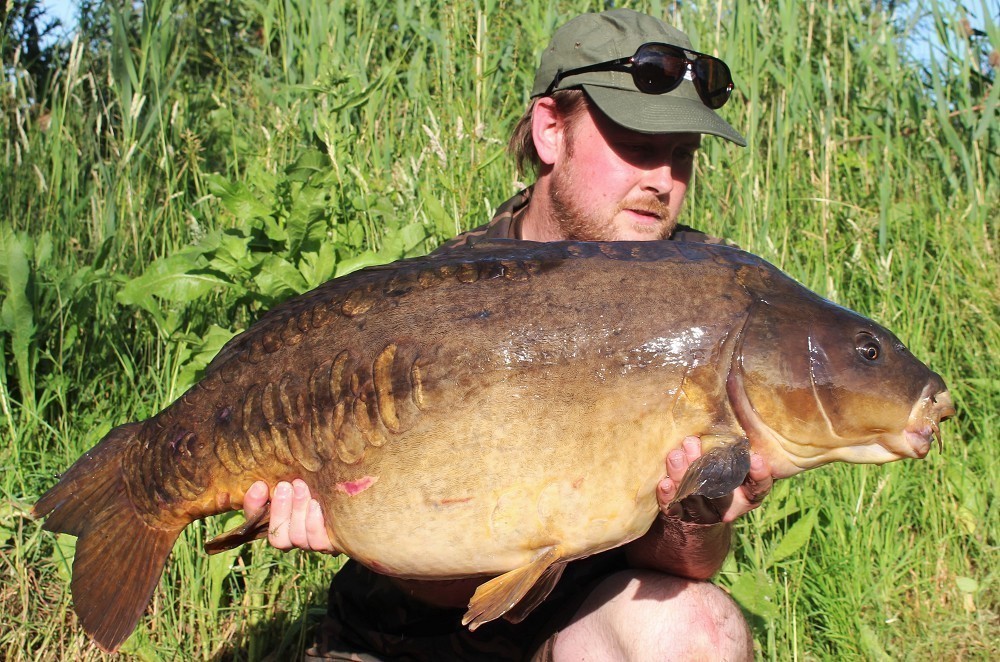 Ryan Gibson with the 39lb 8oz common known as Floppy Tail