Southern whacker for Ryan Searle
37lb 8oz mirror from Hampshire club water
This 37lb 8oz mirror was banked by Ryan Searle during a blazing hot session on his club water.
"I arrived at my Hampshire club water on the Friday evening after work and decided on doing a couple of laps of the pit. It seemed strangely quiet on the fish front so with little to go I decided on having a bit of a social with a few mates whilst I continuing to scan the water," explained Ryan.
The next day having spotted some fish in a bay, Ryan set up casting two rods to a shallow sandy/gravel area that fish often passed over.
"The night went surprising quietly, as the fish possibly moved out of the bay after dark but with conditions hot again they soon arrived back. It was blazing hot and all chance of a bite off the bottom was beginning to look slim."
"At around 11am the left hander rattled off and I was into something that weeded me up straight away. After a short while of tension the fish came free and boiled up on the surface then gave an incredible fight before slipping over the cord."
"I was over the moon, we got some pictures, weighed him up at 37lb 8oz and sent him on his way again! Good times," said Ryan.
Ryan used Blowback rigs with CC Moore Odyssey Hard Hookbaits tipped with Odyssey Whites over a bed of XXX boilies.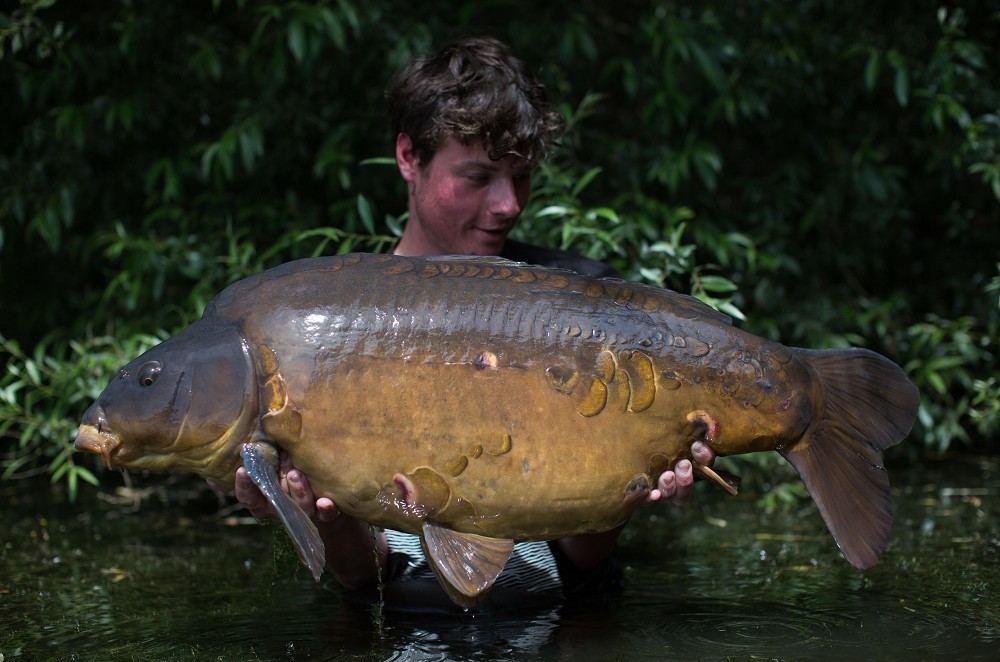 Ryan Searle with the 37lb 8oz mirror