DT Bait Pukka Fish Oily Chicken Range
These strong-smelling chicken-flavoured boilies are clucking great
Taste is made up of five basic elements. Sweetness, sourness, bitterness and saltiness are the ones we all know, but number five is umami - the savoury taste associated with broths and ingredients like monosodium glutamate (MSG) in Chinese cooking. DT Baits' Pukka Fish Mix and Oily Chicken captures that umami taste with a rare savoury boilie built around human-grade chicken flavouring. It's been a huge success for many years and continues to catch fish all over the country.
It's built on the solid foundations of a fishy protein base mix with Haith's Robin Red, fishmeals and green-lipped mussel, with red salmon oil, whey powder and that all-important soluble hydrolised chicken protein flavour on top. And what a flavour it is! These boilies kick out a really distinctive, but certainly not unappetising, pong that will remind you of the finest roast dinners. If everyone around you is using sweet or fishy boilies, then you will certainly stand out from the crowd with this savoury offering.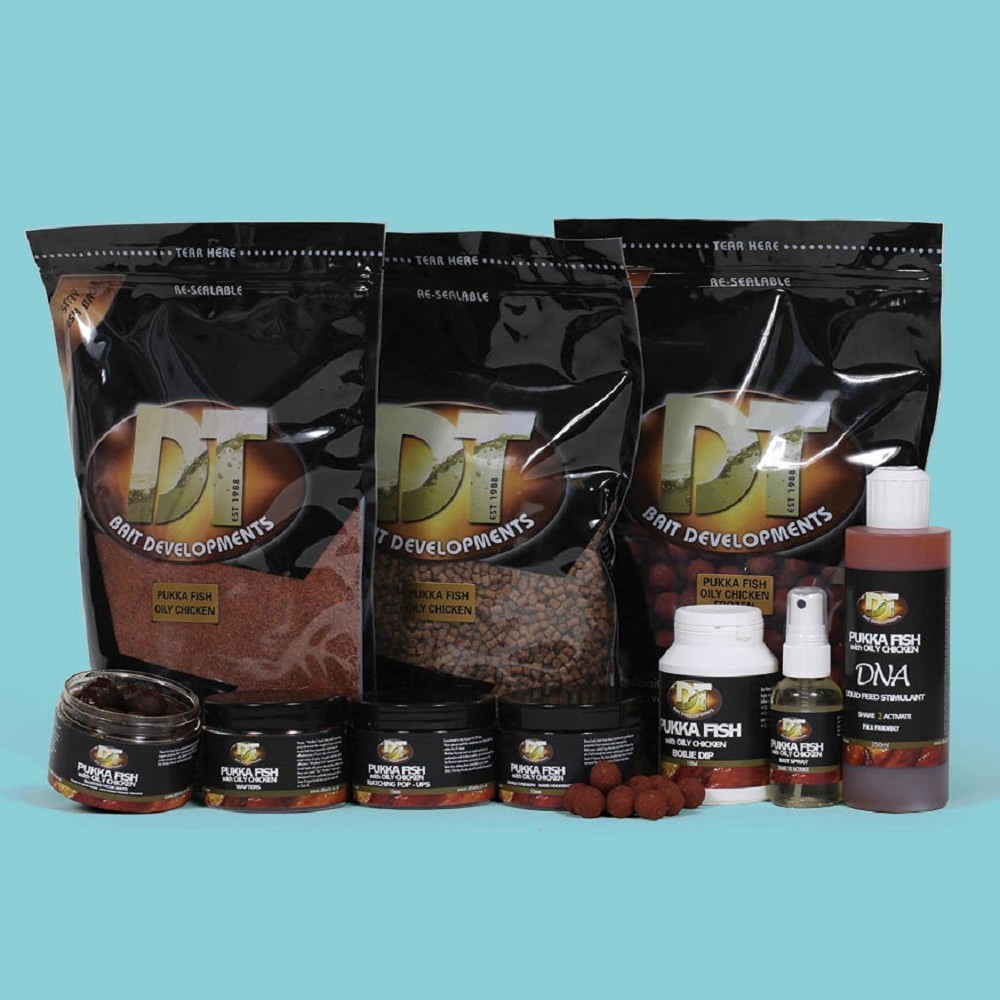 The boilies come in 1kg bags of shelf-life offerings or 5kg and 10kg bags of either shelf-life or frozen baits. Sizes are 15 or 18mm and all of the baits have a reddy-brown colour and plenty of texture.
Elsewhere in the range you will find matching pop-ups, Hardened Hookbaits, Boosted Hookbaits and an Oily Chicken Bait Spray. In addition, there is a matching Stick Mix available in 1kg bags. You can also buy DT's Oily Chicken Taste Tract - a highly concentrated liquid which can be added to base mixes - and the Pukka Fish Mix Oily Chicken base mix itself.
1kg, £12.35; 5kg, £47.99; 10kg, £79.90